Ideas Quotes
Most popular ideas quotes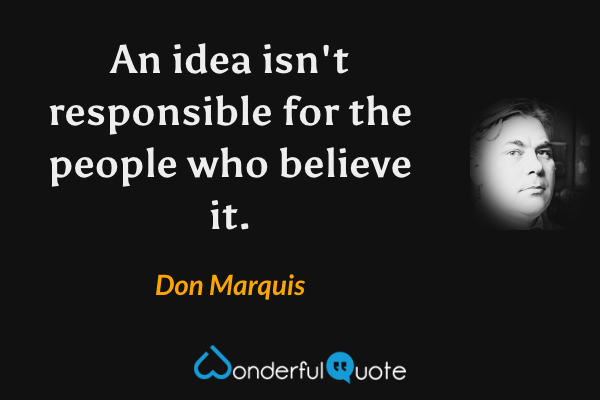 An idea isn't responsible for the people who believe it.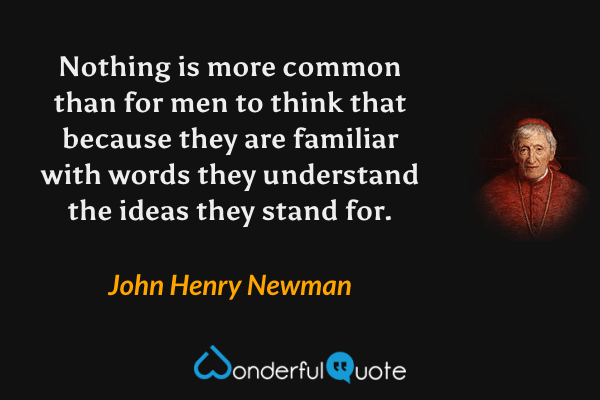 Nothing is more common than for men to think that because they are familiar with words they understand the ideas they stand for.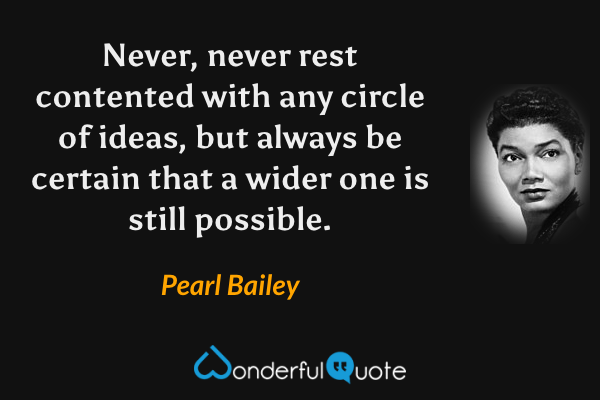 Never, never rest contented with any circle of ideas, but always be certain that a wider one is still possible.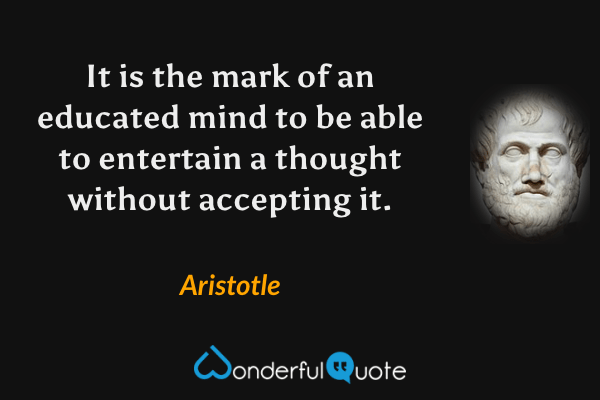 It is the mark of an educated mind to be able to entertain a thought without accepting it.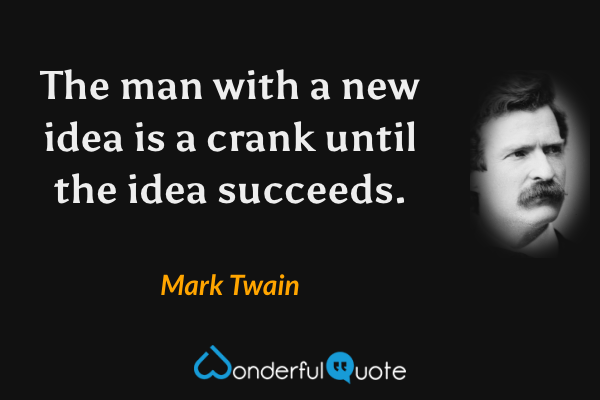 The man with a new idea is a crank until the idea succeeds.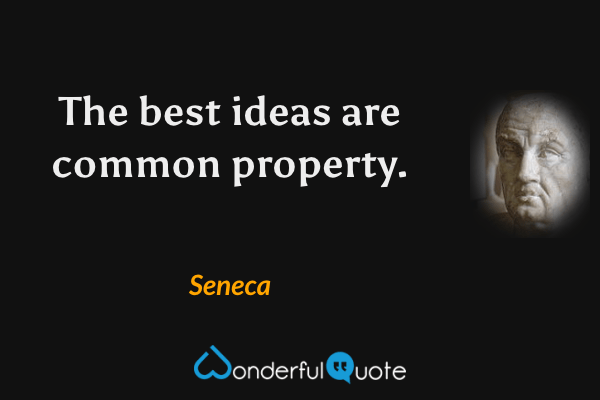 The best ideas are common property.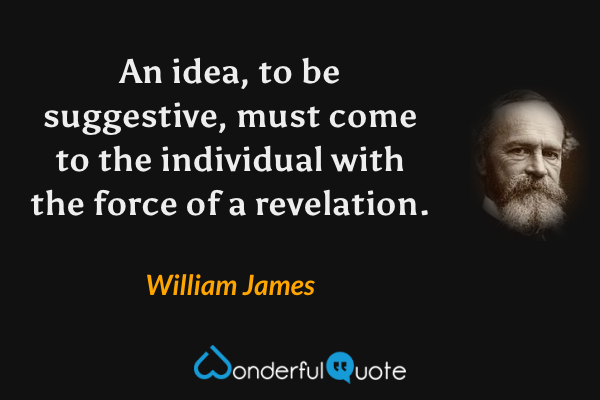 An idea, to be suggestive, must come to the individual with the force of a revelation.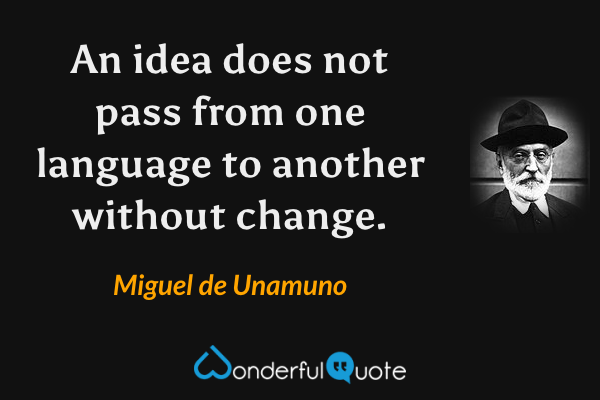 An idea does not pass from one language to another without change.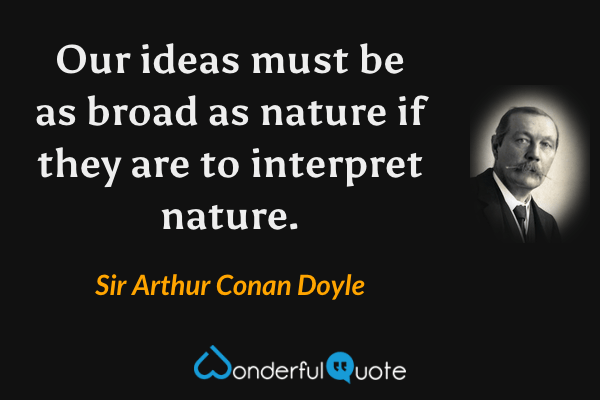 Our ideas must be as broad as nature if they are to interpret nature.
Good ideas are like mushrooms; where you find one you often find more.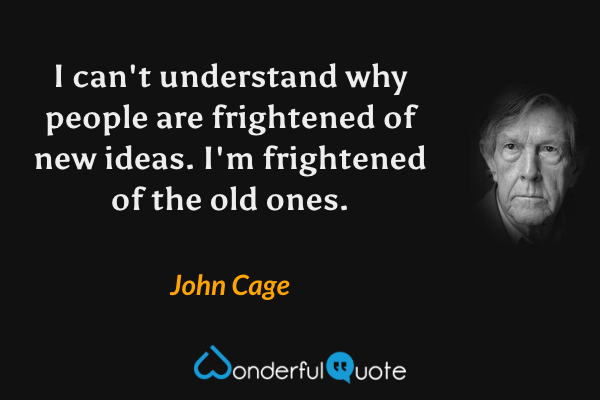 I can't understand why people are frightened of new ideas. I'm frightened of the old ones.
Any year that passes in which you don't destroy one of your best loved ideas is a wasted year.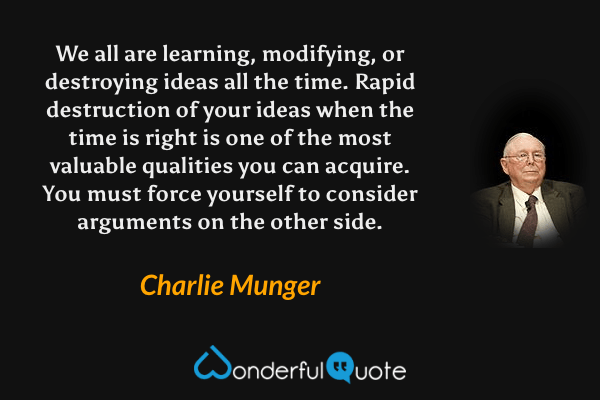 We all are learning, modifying, or destroying ideas all the time. Rapid destruction of your ideas when the time is right is one of the most valuable qualities you can acquire. You must force yourself to consider arguments on the other side.
All words are pegs to hang ideas on.
Great ideas need landing gear as well as wings.
The history of mankind is the history of ideas.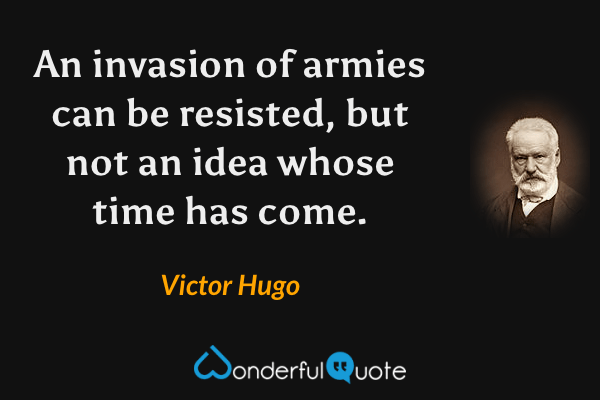 An invasion of armies can be resisted, but not an idea whose time has come.
It is useless to send armies against ideas.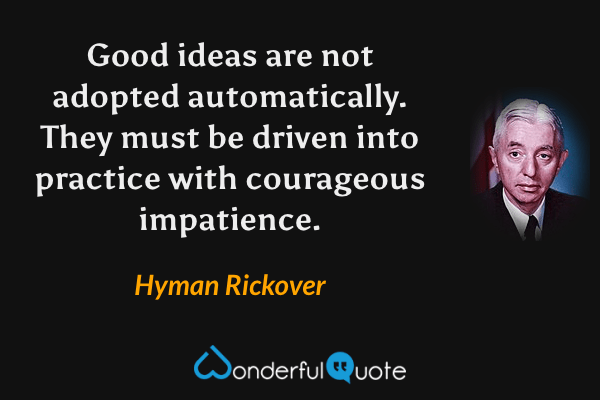 Good ideas are not adopted automatically. They must be driven into practice with courageous impatience.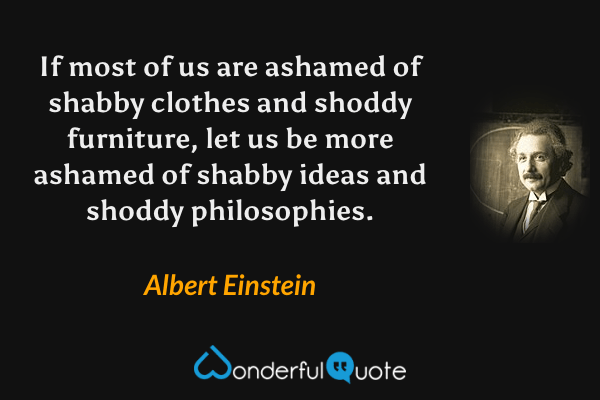 If most of us are ashamed of shabby clothes and shoddy furniture, let us be more ashamed of shabby ideas and shoddy philosophies.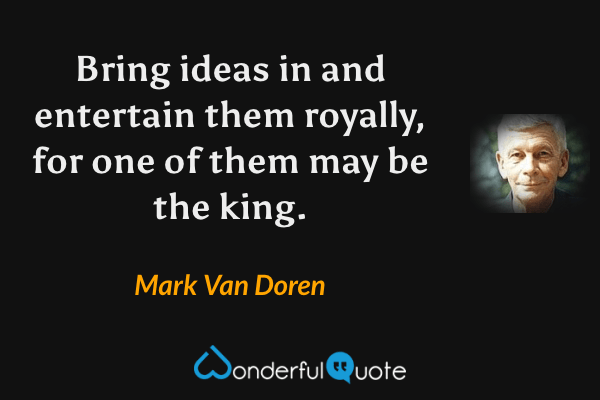 Bring ideas in and entertain them royally, for one of them may be the king.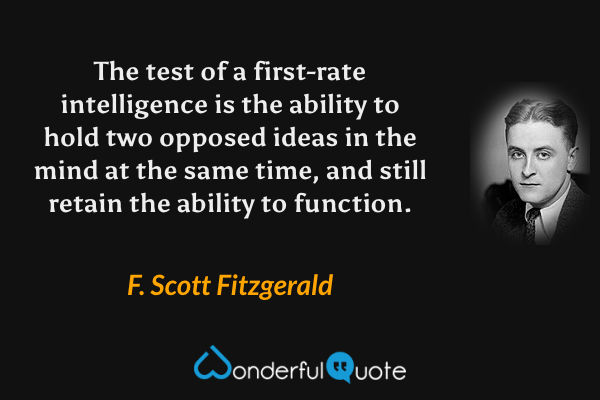 The test of a first-rate intelligence is the ability to hold two opposed ideas in the mind at the same time, and still retain the ability to function.
If a man had as many ideas during the day as he does when he has insomnia, he'd make a fortune.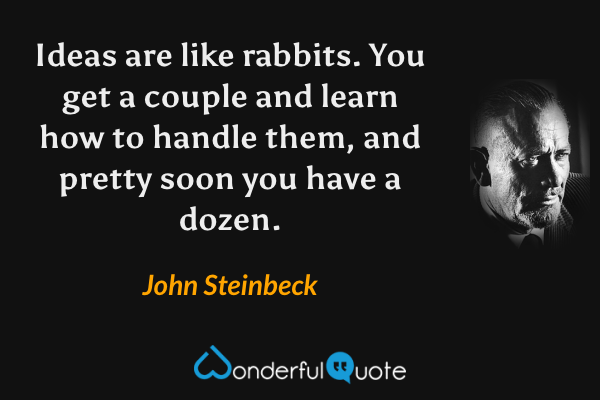 Ideas are like rabbits. You get a couple and learn how to handle them, and pretty soon you have a dozen.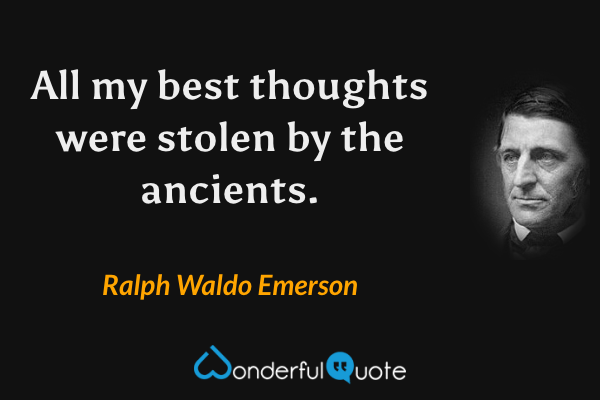 All my best thoughts were stolen by the ancients.
One should never spoil a good theory by explaining it.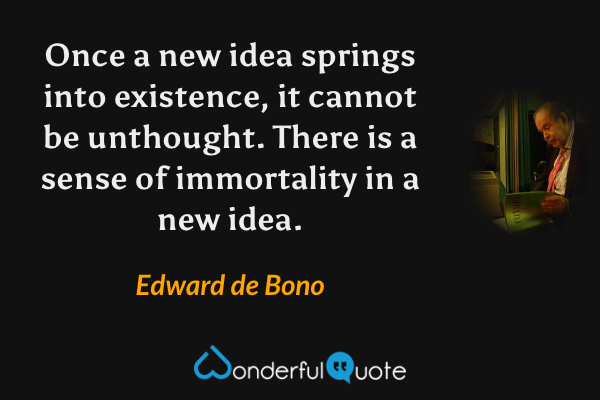 Once a new idea springs into existence, it cannot be unthought. There is a sense of immortality in a new idea.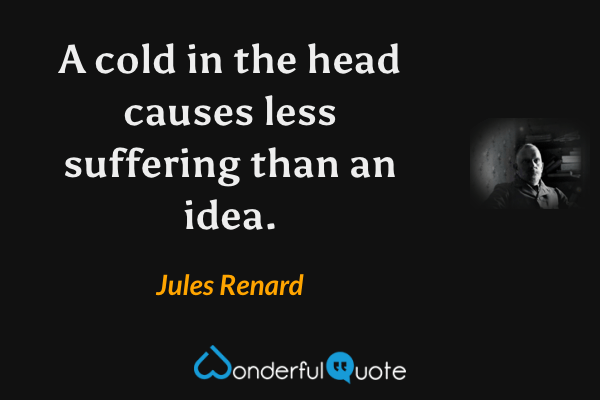 A cold in the head causes less suffering than an idea.
Success is often just an idea away.
The clash of ideas is the sound of freedom.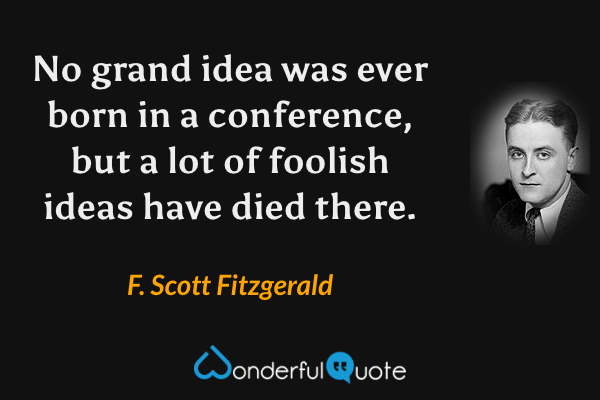 No grand idea was ever born in a conference, but a lot of foolish ideas have died there.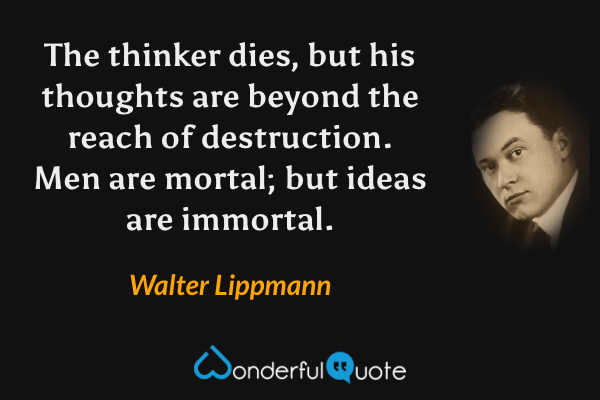 The thinker dies, but his thoughts are beyond the reach of destruction. Men are mortal; but ideas are immortal.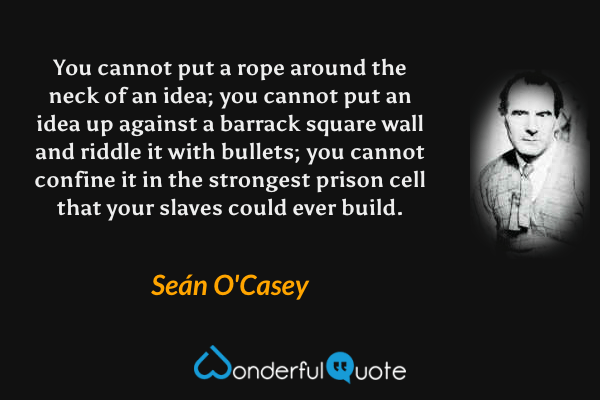 You cannot put a rope around the neck of an idea; you cannot put an idea up against a barrack square wall and riddle it with bullets; you cannot confine it in the strongest prison cell that your slaves could ever build.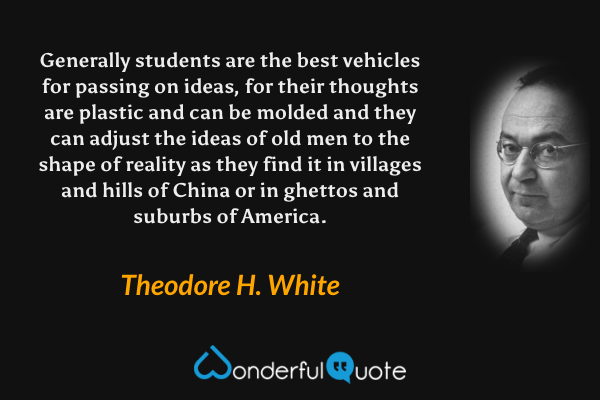 Generally students are the best vehicles for passing on ideas, for their thoughts are plastic and can be molded and they can adjust the ideas of old men to the shape of reality as they find it in villages and hills of China or in ghettos and suburbs of America.
The cleverly expressed opposite of any generally accepted idea is worth a fortune to somebody.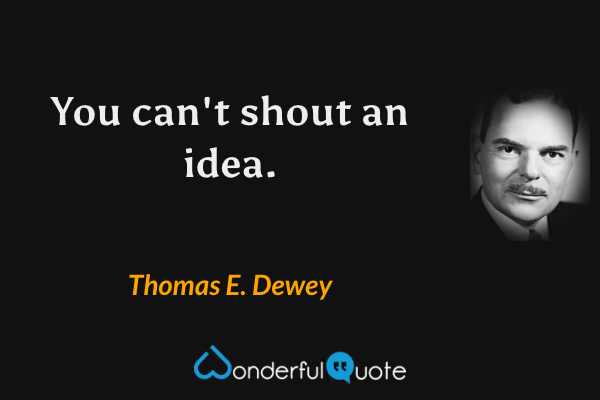 You can't shout an idea.
A man may die, nations may rise and fall, but an idea lives on. Ideas have endurance without death.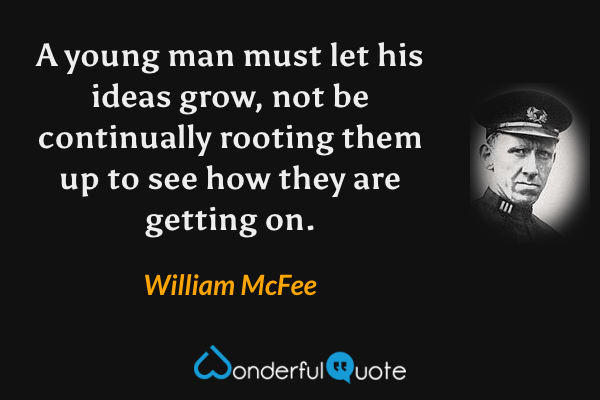 A young man must let his ideas grow, not be continually rooting them up to see how they are getting on.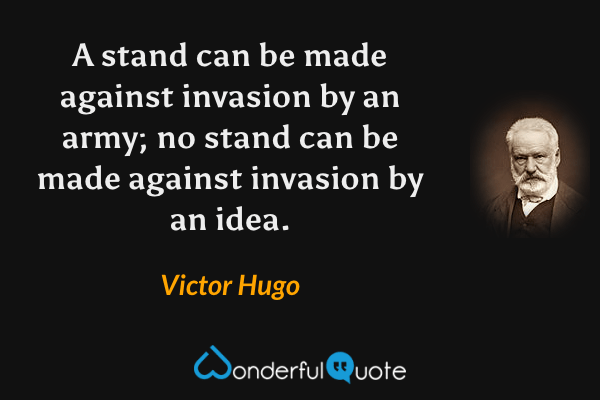 A stand can be made against invasion by an army; no stand can be made against invasion by an idea.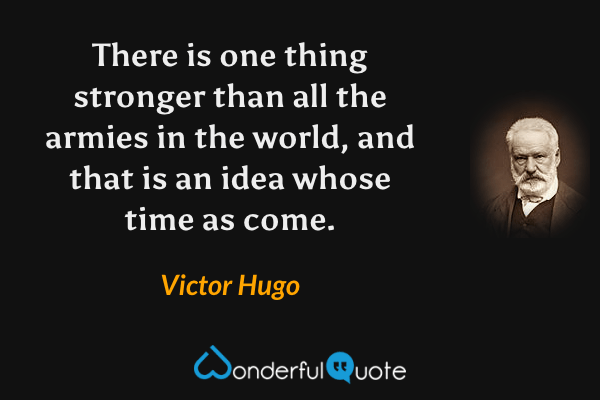 There is one thing stronger than all the armies in the world, and that is an idea whose time as come.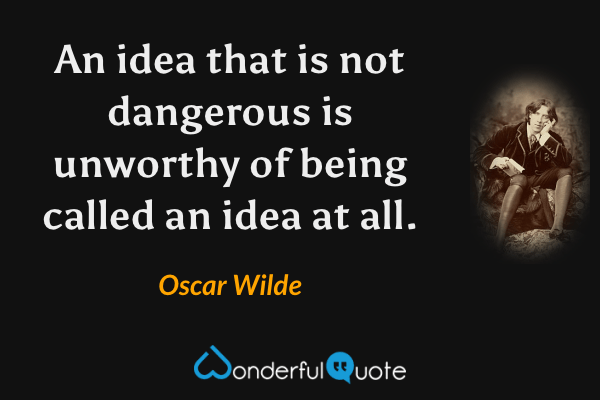 An idea that is not dangerous is unworthy of being called an idea at all.
An idea, to be suggestive, must come to the individual with the force of revelation.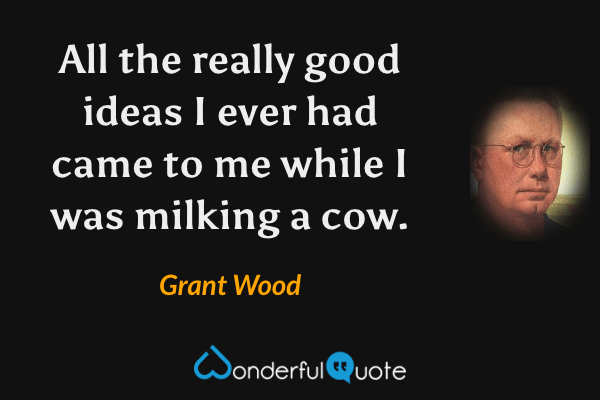 All the really good ideas I ever had came to me while I was milking a cow.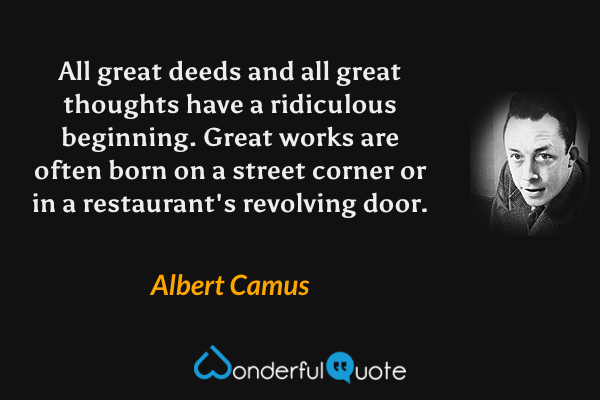 All great deeds and all great thoughts have a ridiculous beginning. Great works are often born on a street corner or in a restaurant's revolving door.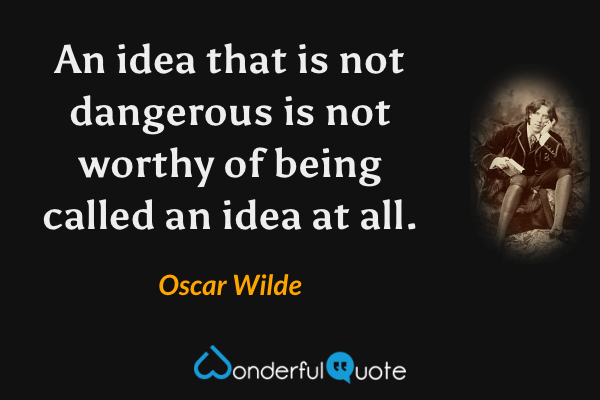 An idea that is not dangerous is not worthy of being called an idea at all.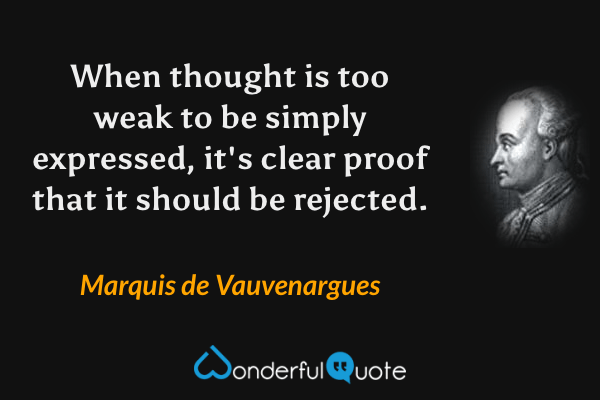 When thought is too weak to be simply expressed, it's clear proof that it should be rejected.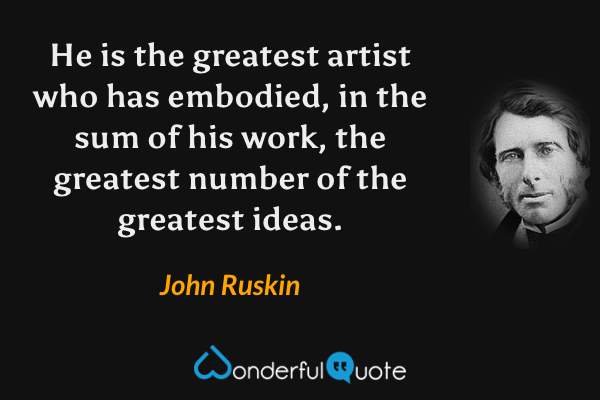 He is the greatest artist who has embodied, in the sum of his work, the greatest number of the greatest ideas.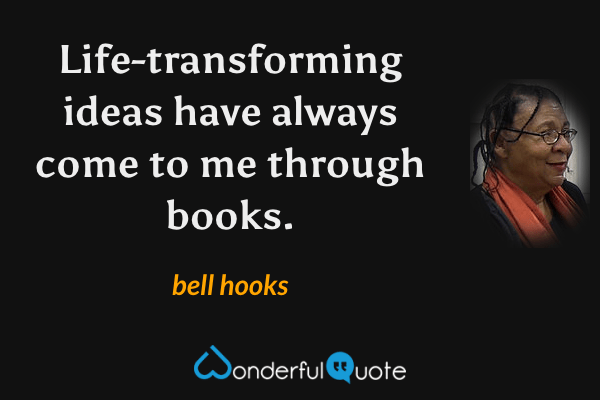 Life-transforming ideas have always come to me through books.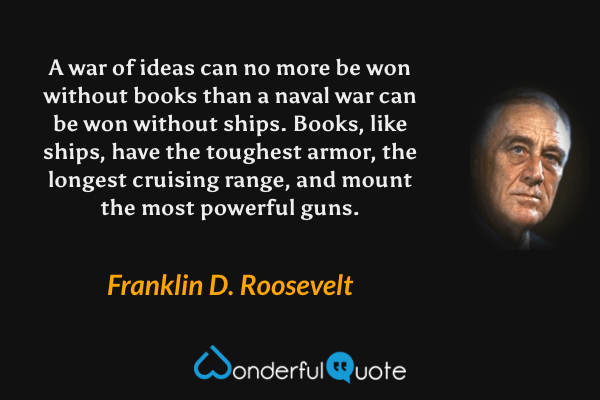 A war of ideas can no more be won without books than a naval war can be won without ships.  Books, like ships, have the toughest armor, the longest cruising range, and mount the most powerful guns.
Courage charms us because it indicates that a man loves an idea better than all the things in the world, that he is thinking neither of his bed, nor his dinner, nor his money, but will venture all to put in act the invisible thought of his mind.
A cul-de-sac down which ideas are lured, and then quietly strangled.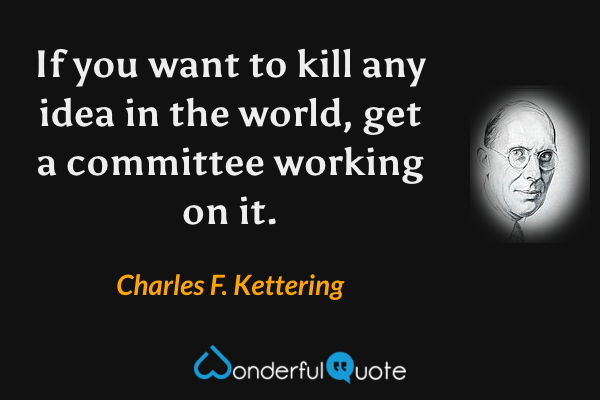 If you want to kill any idea in the world, get a committee working on it.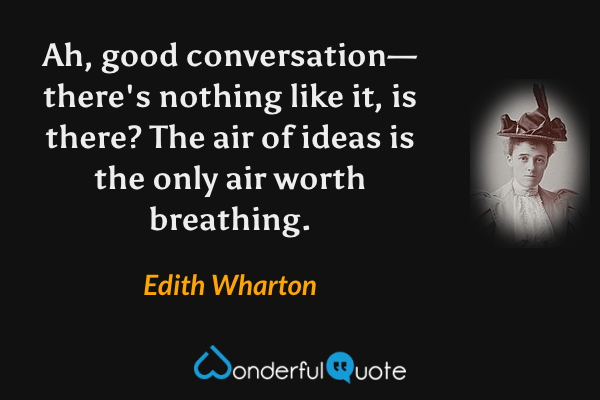 Ah, good conversation—there's nothing like it, is there?  The air of ideas is the only air worth breathing.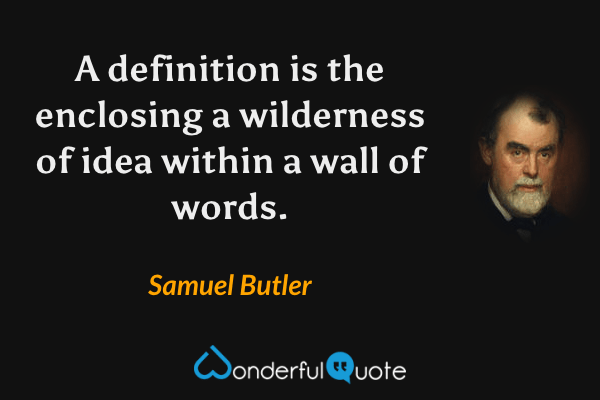 A definition is the enclosing a wilderness of idea within a wall of words.
A mediocre idea that generates enthusiasm will go further than a great idea that inspires no one.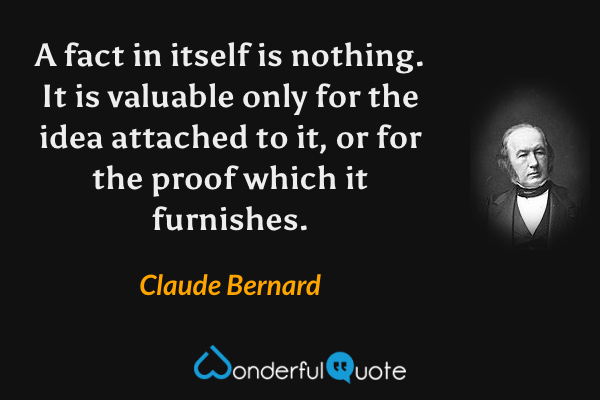 A fact in itself is nothing. It is valuable only for the idea attached to it, or for the proof which it furnishes.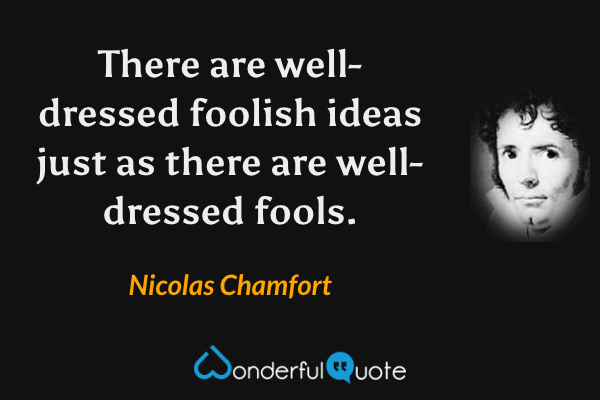 There are well-dressed foolish ideas just as there are well-dressed fools.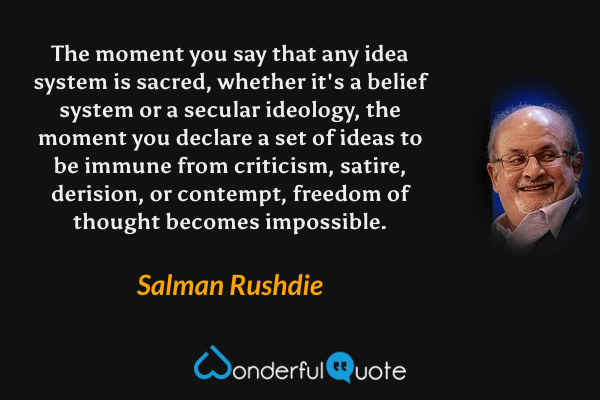 The moment you say that any idea system is sacred, whether it's a belief system or a secular ideology, the moment you declare a set of ideas to be immune from criticism, satire, derision, or contempt, freedom of thought becomes impossible.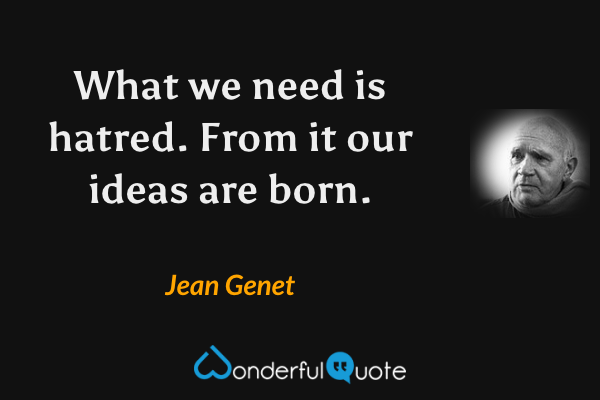 What we need is hatred. From it our ideas are born.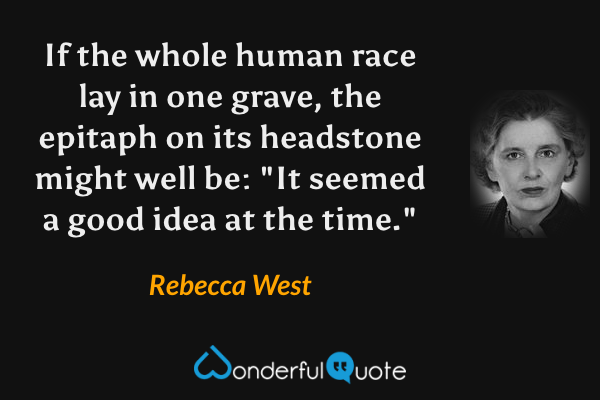 If the whole human race lay in one grave, the epitaph on its headstone might well be: "It seemed a good idea at the time."
The brain can hold an idea in its stockroom for years, occasionally checking to see if it has changed at all, revising it a little, and then putting it back on the shelf, taking it down again when it seems to have evolved like a lemur from its original form.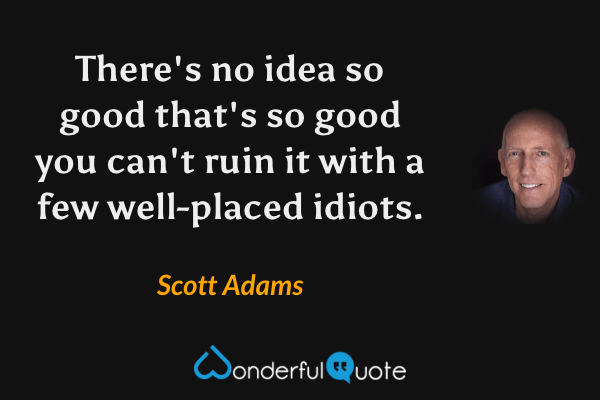 There's no idea so good that's so good you can't ruin it with a few well-placed idiots.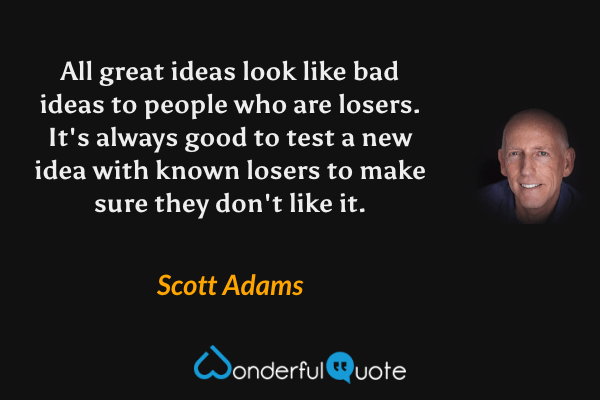 All great ideas look like bad ideas to people who are losers.  It's always good to test a new idea with known losers to make sure they don't like it.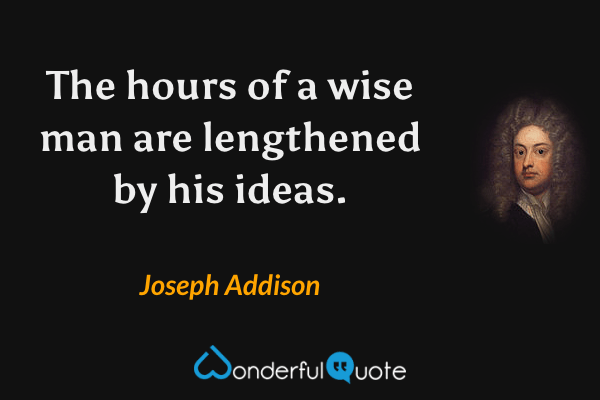 The hours of a wise man are lengthened by his ideas.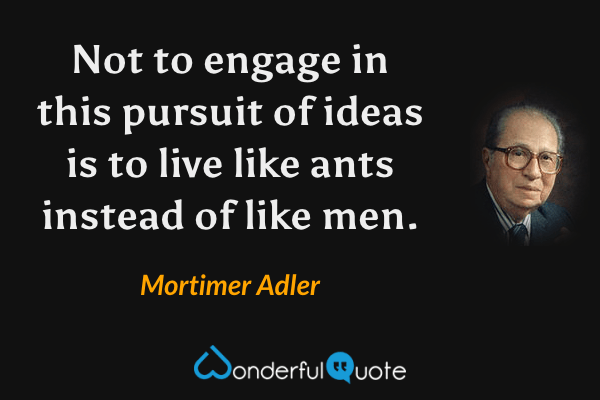 Not to engage in this pursuit of ideas is to live like ants instead of like men.
Nothing is more dangerous than an idea, when you have only one.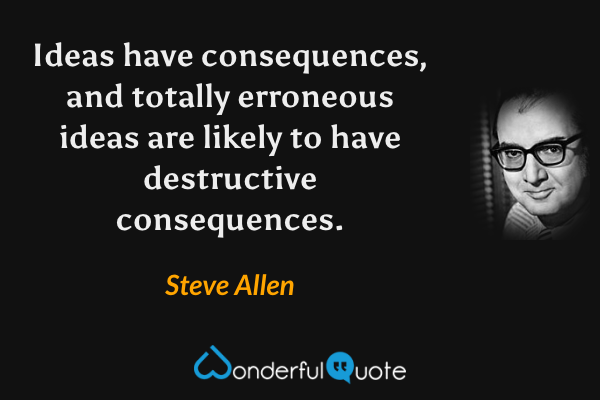 Ideas have consequences, and totally erroneous ideas are likely to have destructive consequences.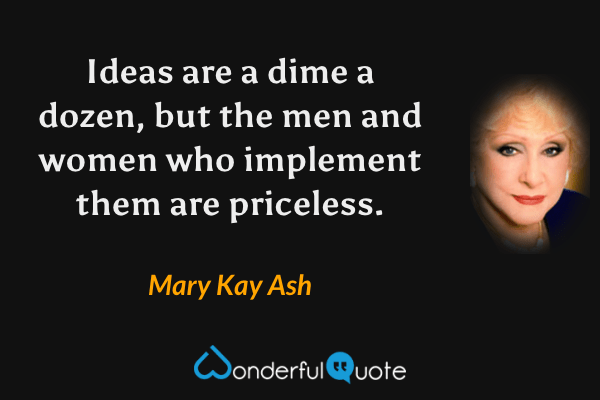 Ideas are a dime a dozen, but the men and women who implement them are priceless.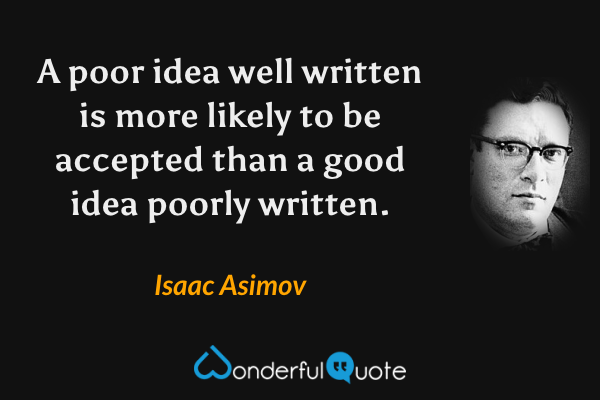 A poor idea well written is more likely to be accepted than a good idea poorly written.
Ideas are like fleas, they jump from person to person, but they don't bite everyone.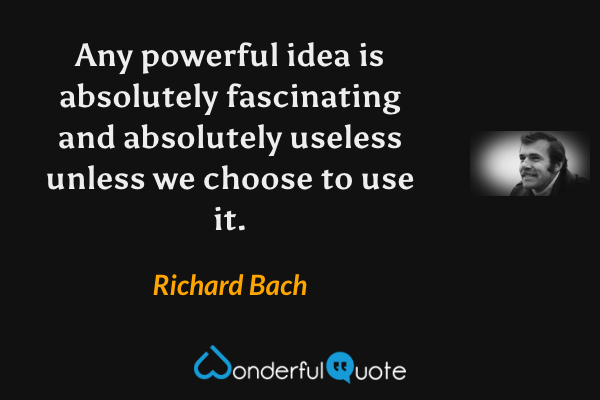 Any powerful idea is absolutely fascinating and absolutely useless unless we choose to use it.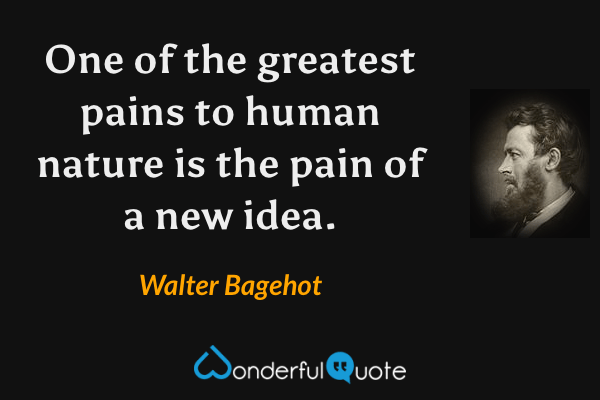 One of the greatest pains to human nature is the pain of a new idea.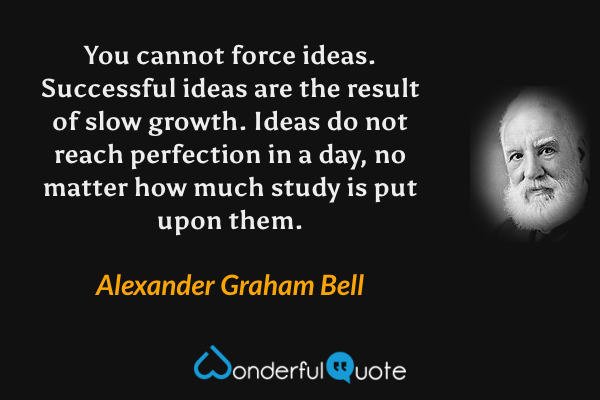 You cannot force ideas.  Successful ideas are the result of slow growth. Ideas do not reach perfection in a day, no matter how much study is put upon them.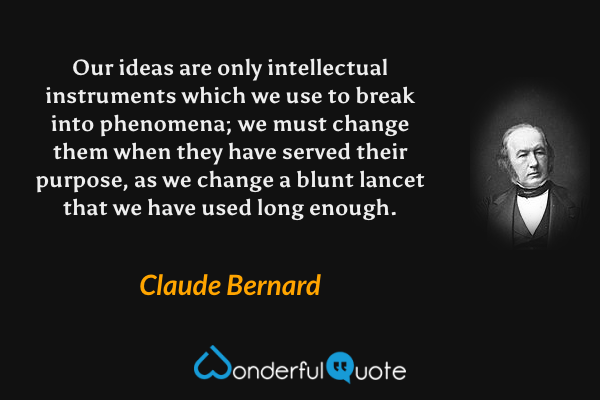 Our ideas are only intellectual instruments which we use to break into phenomena; we must change them when they have served their purpose, as we change a blunt lancet that we have used long enough.
An idea can turn to dust or magic, depending on the talent that rubs against it.
Ideas are to literature what light is to painting.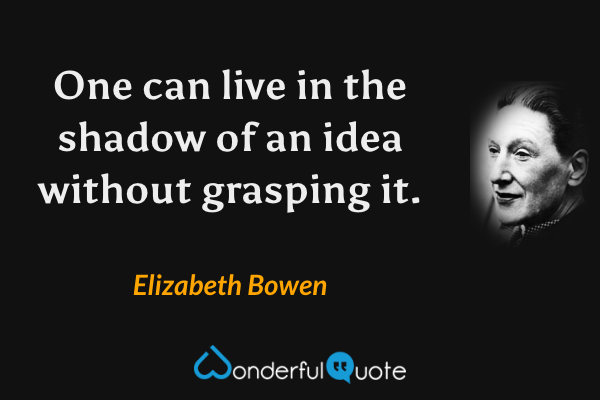 One can live in the shadow of an idea without grasping it.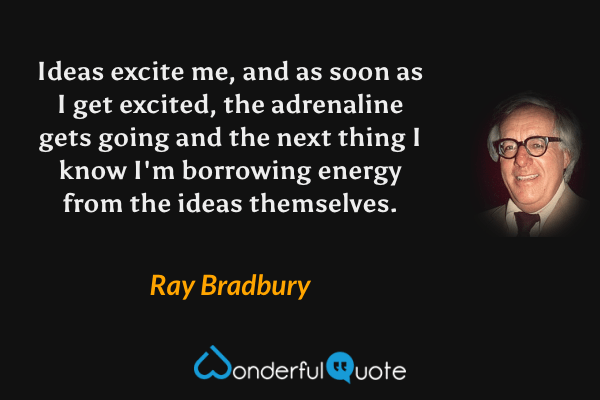 Ideas excite me, and as soon as I get excited, the adrenaline gets going and the next thing I know I'm borrowing energy from the ideas themselves.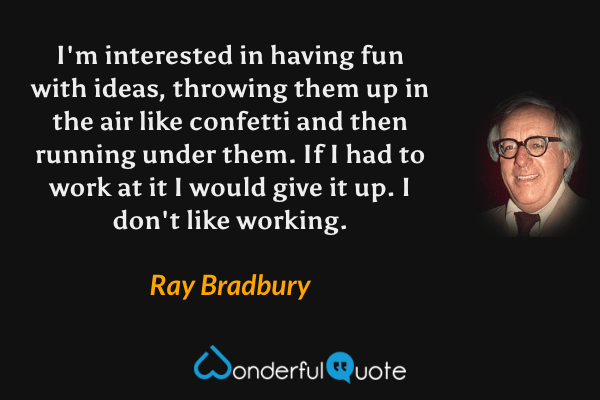 I'm interested in having fun with ideas, throwing them up in the air like confetti and then running under them. If I had to work at it I would give it up. I don't like working.
There is no adequate defense, except stupidity, against the impact of a new idea.
If you want to get across an idea, wrap it up in a person.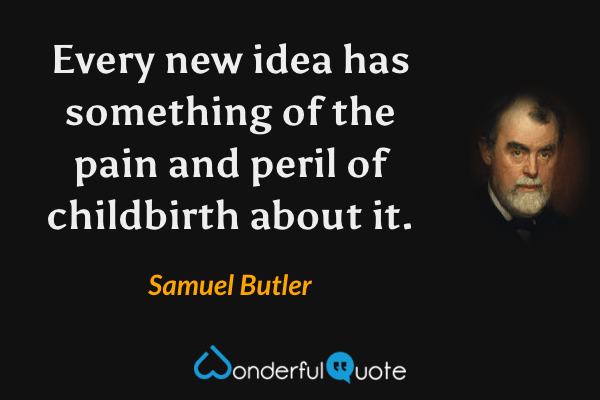 Every new idea has something of the pain and peril of childbirth about it.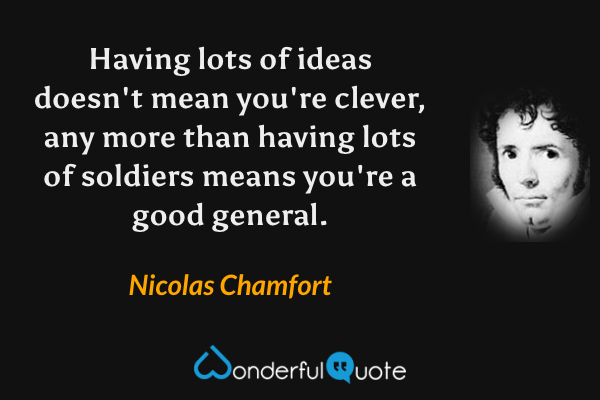 Having lots of ideas doesn't mean you're clever, any more than having lots of soldiers means you're a good general.
One doesn't "get" an "idea" for a novel. The "idea" more or less gets you. It uses you as a kind of culture, the way a pearl uses an oyster.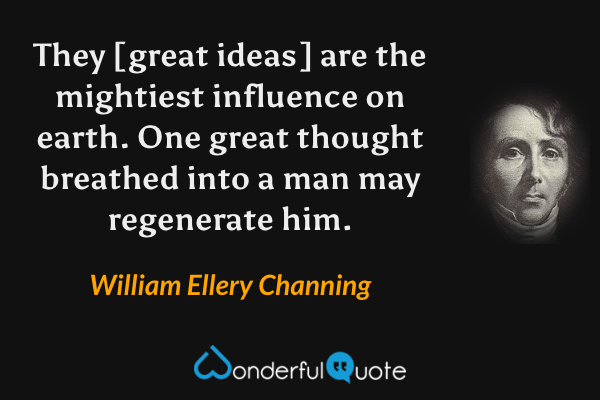 They [great ideas] are the mightiest influence on earth.  One great thought breathed into a man may regenerate him.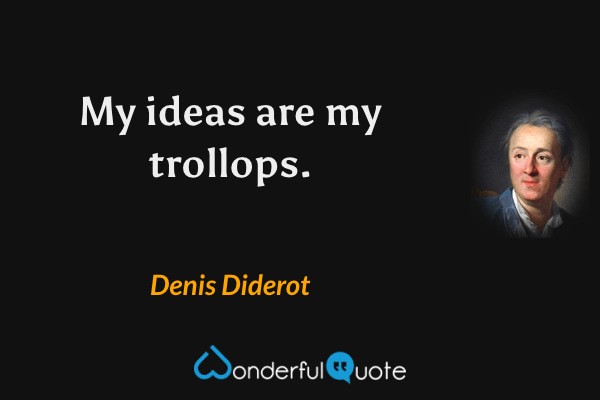 My ideas are my trollops.
Ideas, like individuals, live and die.  They flourish, according to their nature, in one soil or climate and droop in another.  They are the vegetation of the mental world.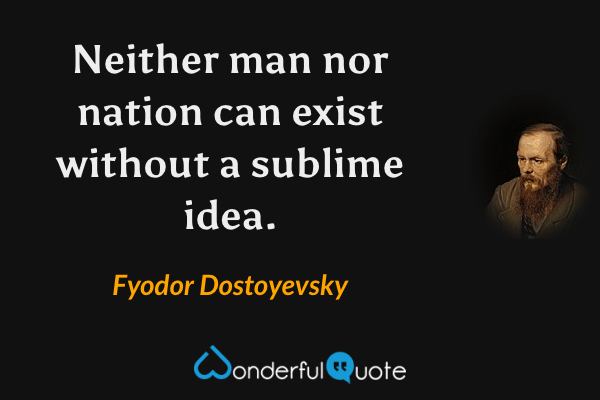 Neither man nor nation can exist without a sublime idea.
A character or an idea has to grow like a seed and take possession.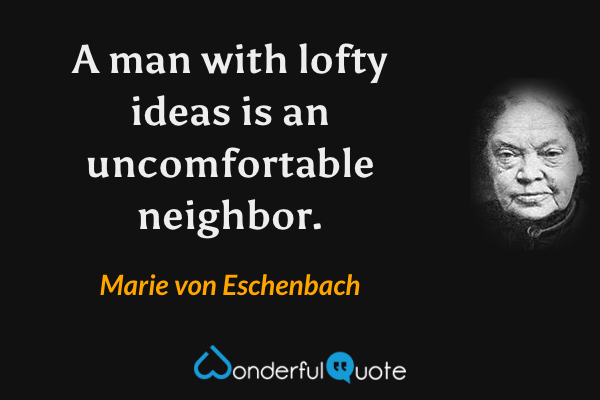 A man with lofty ideas is an uncomfortable neighbor.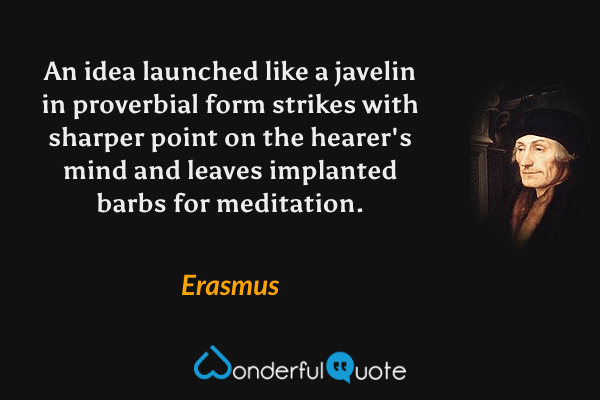 An idea launched like a javelin in proverbial form strikes with sharper point on the hearer's mind and leaves implanted barbs for meditation.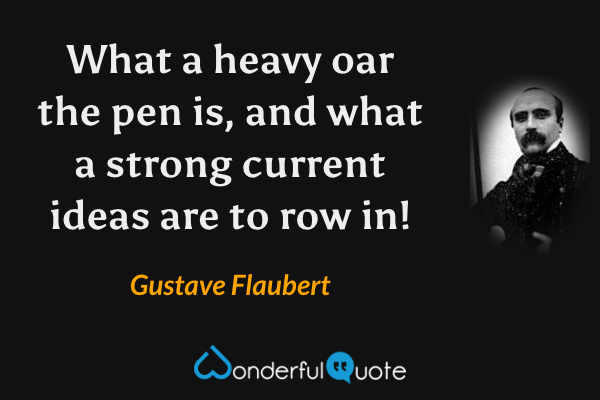 What a heavy oar the pen is, and what a strong current ideas are to row in!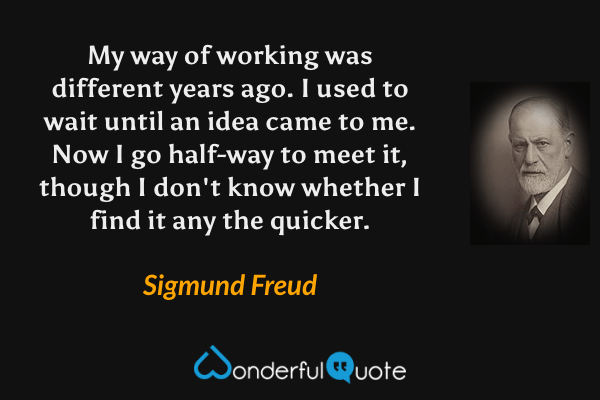 My way of working was different years ago.  I used to wait until an idea came to me. Now I go half-way to meet it, though I don't know whether I find it any the quicker.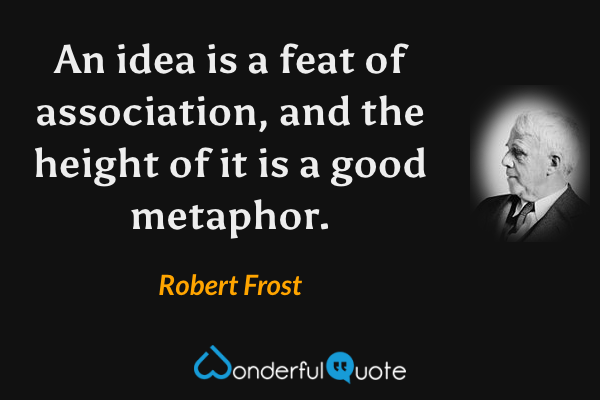 An idea is a feat of association, and the height of it is a good metaphor.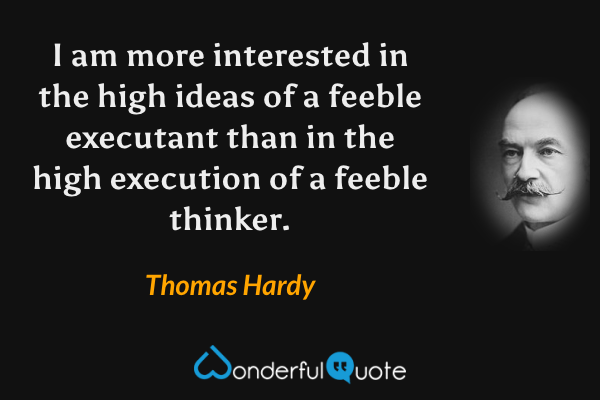 I am more interested in the high ideas of a feeble executant than in the high execution of a feeble thinker.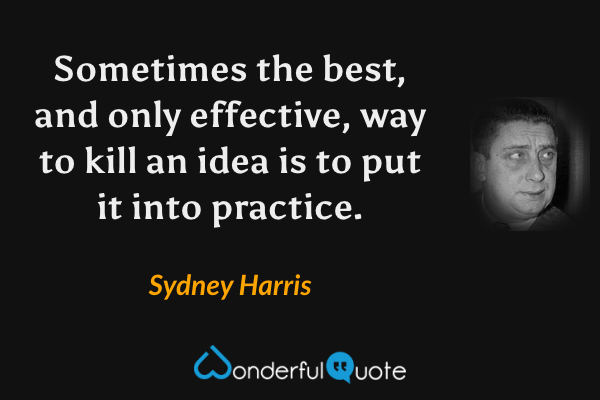 Sometimes the best, and only effective, way to kill an idea is to put it into practice.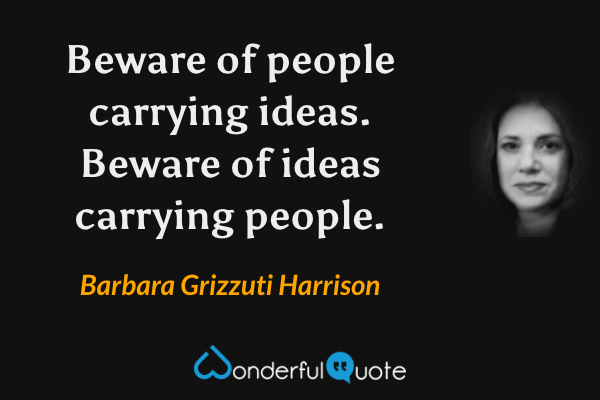 Beware of people carrying ideas.  Beware of ideas carrying people.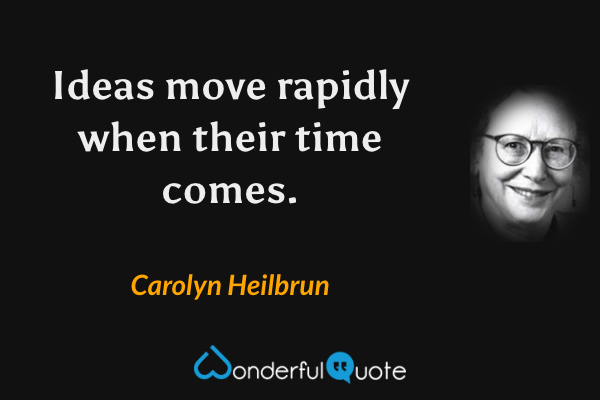 Ideas move rapidly when their time comes.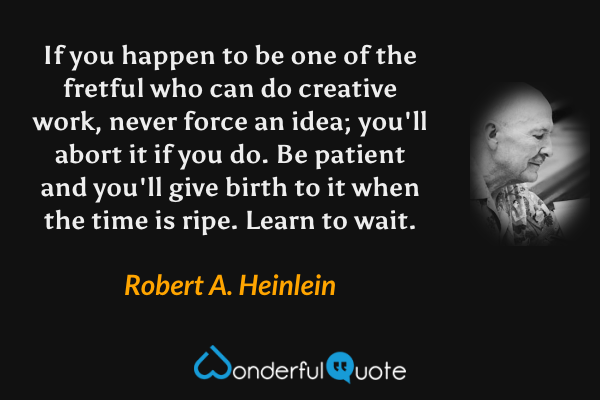 If you happen to be one of the fretful who can do creative work, never force an idea; you'll abort it if you do.  Be patient and you'll give birth to it when the time is ripe.  Learn to wait.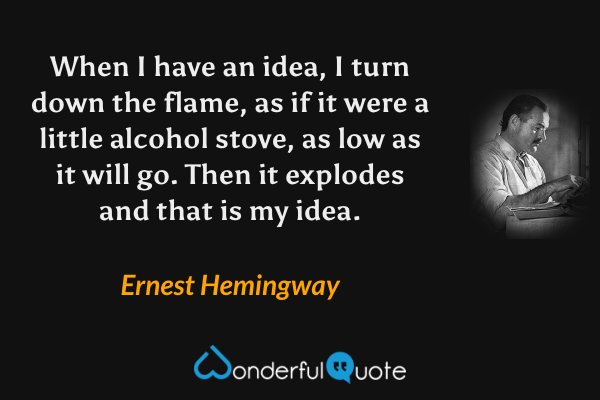 When I have an idea, I turn down the flame, as if it were a little alcohol stove, as low as it will go. Then it explodes and that is my idea.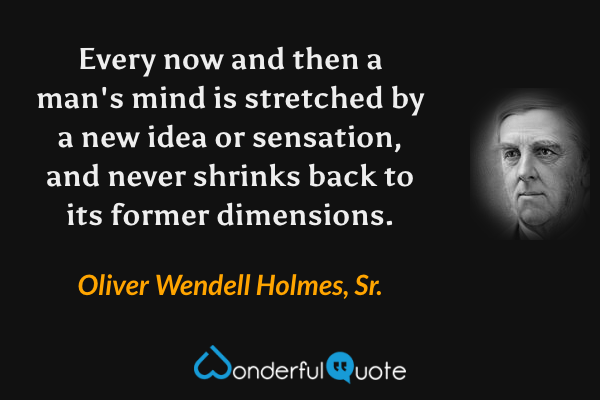 Every now and then a man's mind is stretched by a new idea or sensation, and never shrinks back to its former dimensions.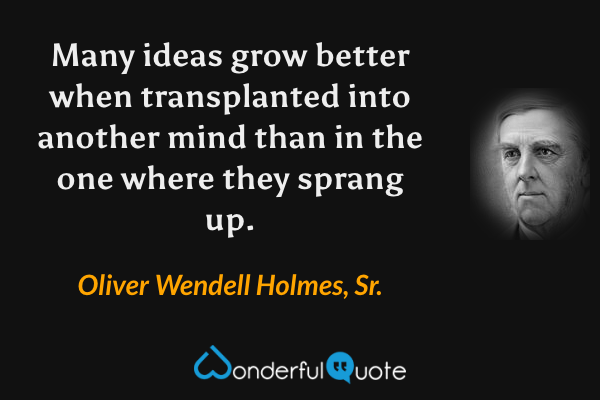 Many ideas grow better when transplanted into another mind than in the one where they sprang up.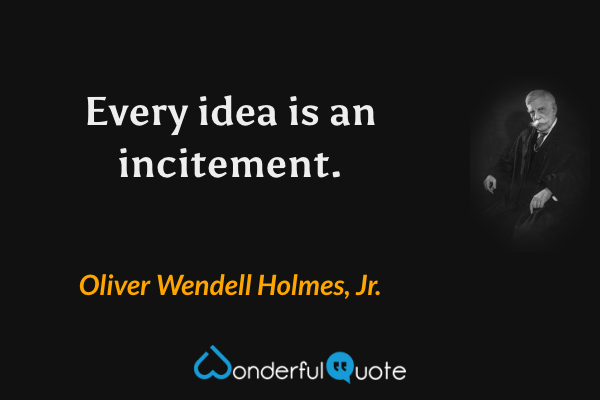 Every idea is an incitement.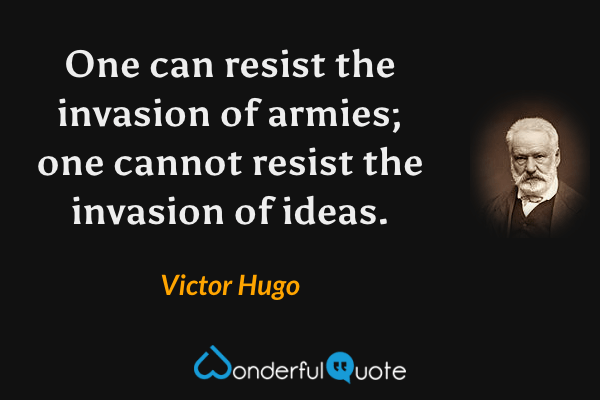 One can resist the invasion of armies; one cannot resist the invasion of ideas.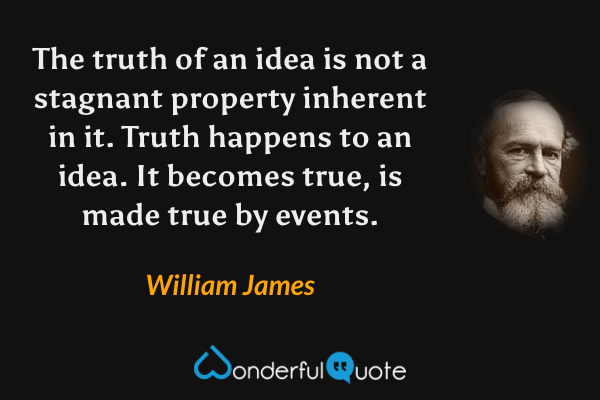 The truth of an idea is not a stagnant property inherent in it.  Truth happens to an idea.  It becomes true, is made true by events.
It is better to entertain an idea than to take it home to live with you for the rest of your life.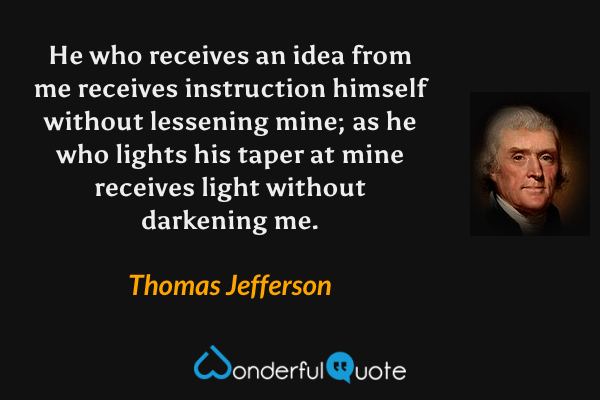 He who receives an idea from me receives instruction himself without lessening mine; as he who lights his taper at mine receives light without darkening me.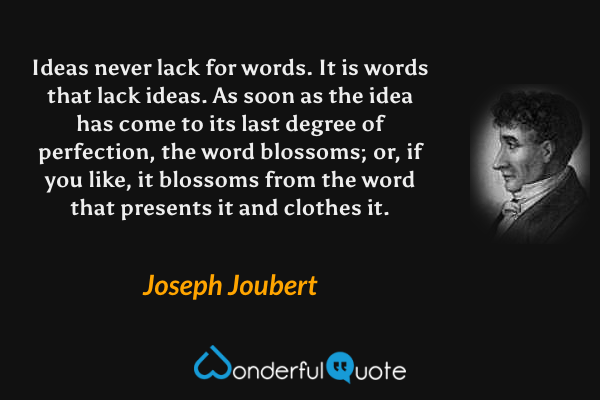 Ideas never lack for words.  It is words that lack ideas.  As soon as the idea has come to its last degree of perfection, the word blossoms; or, if you like, it blossoms from the word that presents it and clothes it.
To stay ahead, always have your next idea waiting in the wings.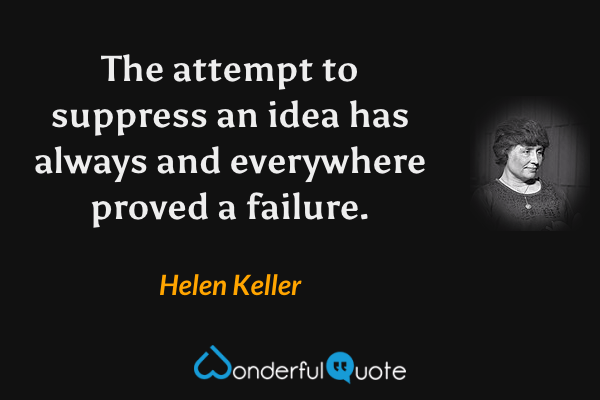 The attempt to suppress an idea has always and everywhere proved a failure.
To say that an idea is fashionable is to say, I think, that it has been adulterated to a point where it is hardly an idea at all.
Ideas lose themselves as quickly as quail, and one must wing them the minute they rise out of the grass—or they are gone.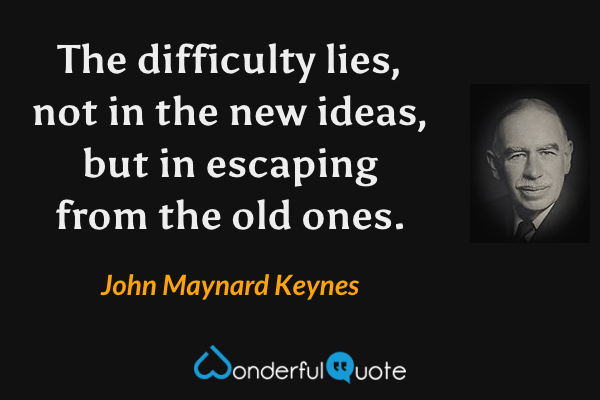 The difficulty lies, not in the new ideas, but in escaping from the old ones.
Ideas get substance and value not by being discussed but by being lived.
Lying in bed just before going to sleep is the worst time for organized thinking; it is the best time for free thinking.  Ideas drift like clouds in an undecided breeze, taking first this direction and then that.
Often the seed of a great and workable idea is inherent in an absurd one.
Do you find yourself in the same unhappy situation again and again, wondering where you went wrong and why it happened again?  It's not always just bad luck—it may be bad ideas.
In a war of ideas, it is people who get killed.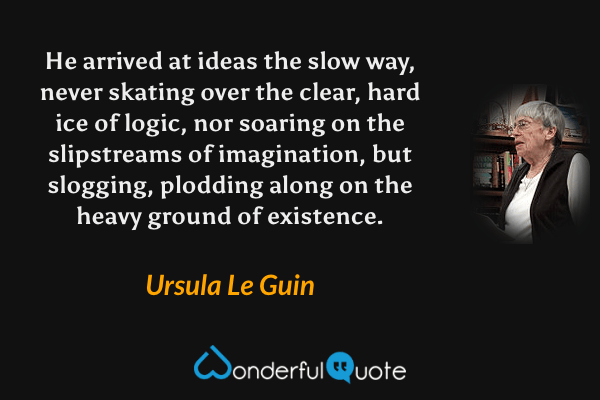 He arrived at ideas the slow way, never skating over the clear, hard ice of logic, nor soaring on the slipstreams of imagination, but slogging, plodding along on the heavy ground of existence.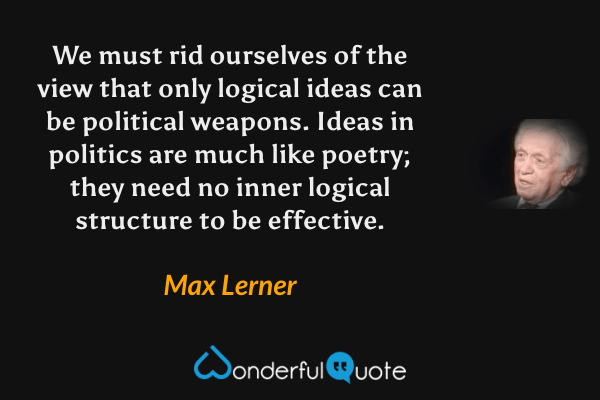 We must rid ourselves of the view that only logical ideas can be political weapons.  Ideas in politics are much like poetry; they need no inner logical structure to be effective.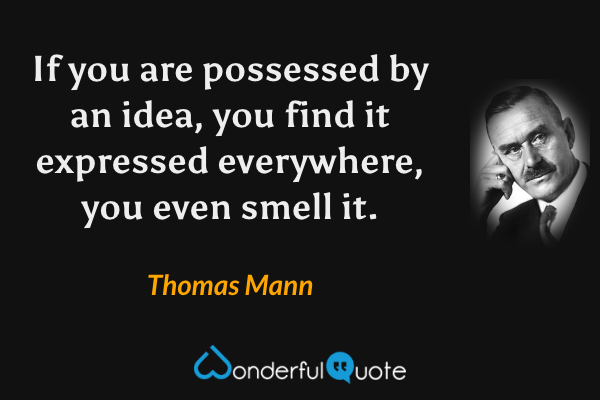 If you are possessed by an idea, you find it expressed everywhere, you even smell it.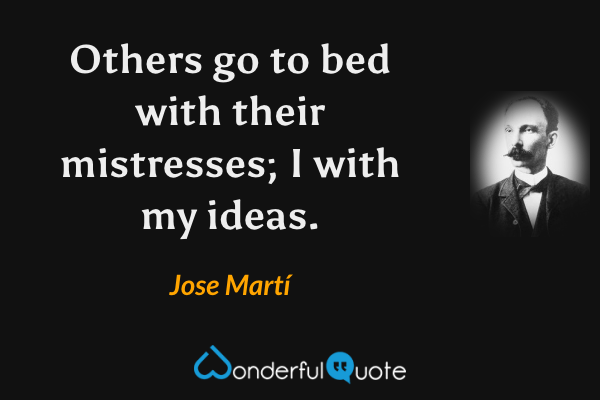 Others go to bed with their mistresses; I with my ideas.
Barricades of ideas are worth more than barricades of stones.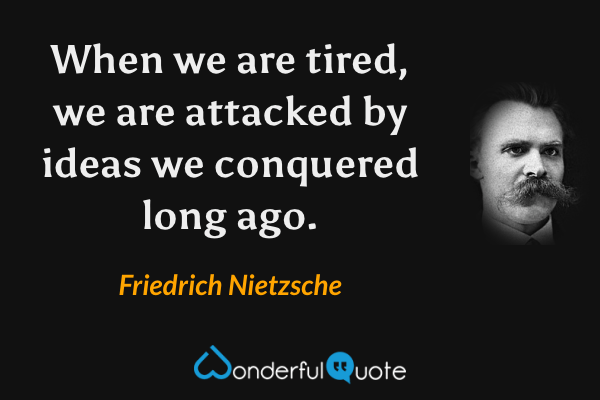 When we are tired, we are attacked by ideas we conquered long ago.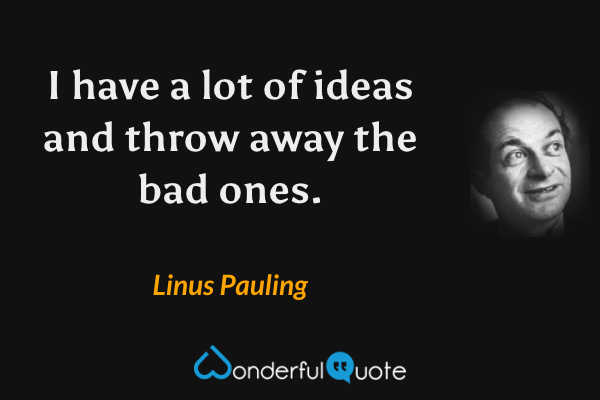 I have a lot of ideas and throw away the bad ones.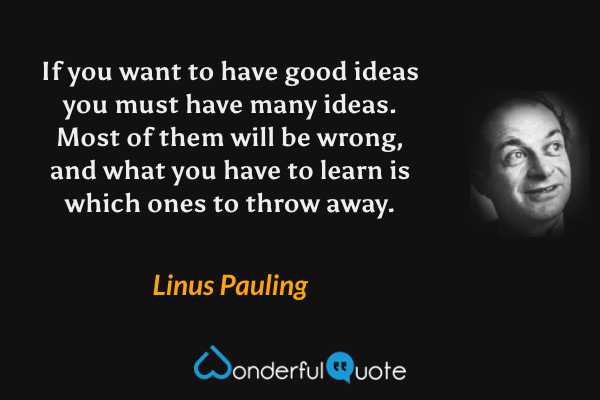 If you want to have good ideas you must have many ideas. Most of them will be wrong, and what you have to learn is which ones to throw away.
A writer didn't need "an" idea for a book; she needed at least forty. And "get" was the wrong word, implying that you received an idea as you would a gift.
We are constantly hatching an enormous number of false ideas, conceits, Utopias, mystical explanations, suspicions, and megalomaniacal fantasies, which disappear when brought into contact with other people.
How do ideas avoid discovery until the right time appears?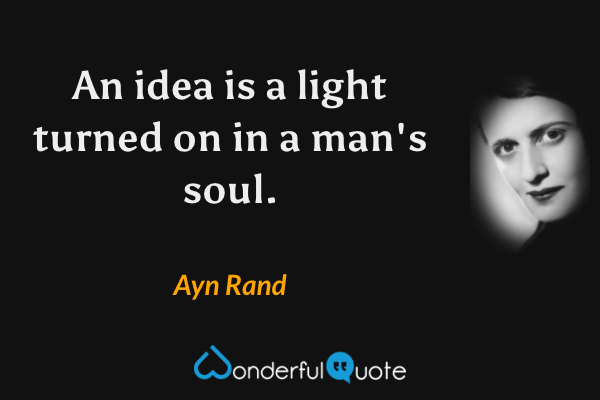 An idea is a light turned on in a man's soul.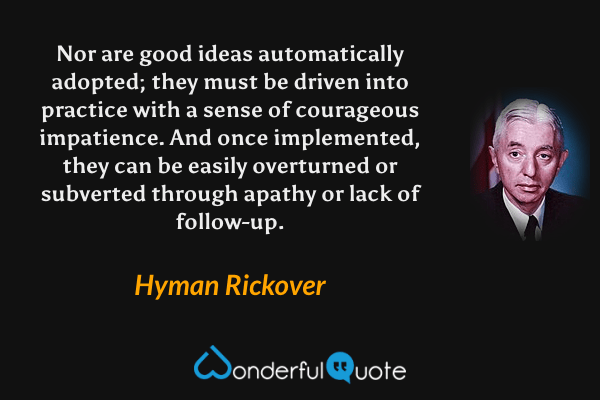 Nor are good ideas automatically adopted; they must be driven into practice with a sense of courageous impatience.  And once implemented, they can be easily overturned or subverted through apathy or lack of follow-up.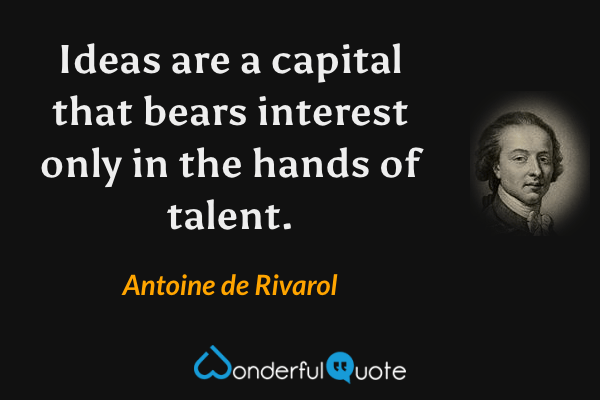 Ideas are a capital that bears interest only in the hands of talent.
I had never been as resigned to ready-made ideas as I was to ready-made clothes, perhaps because, although I couldn't sew, I could think.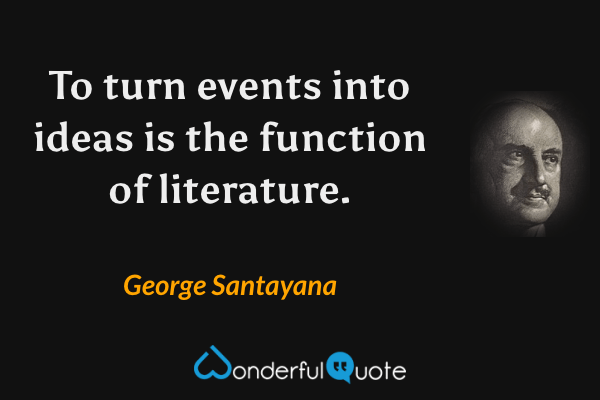 To turn events into ideas is the function of literature.
Usually, the best ideas come from other people's good ideas, which then, after a short gestation period, become your ideas.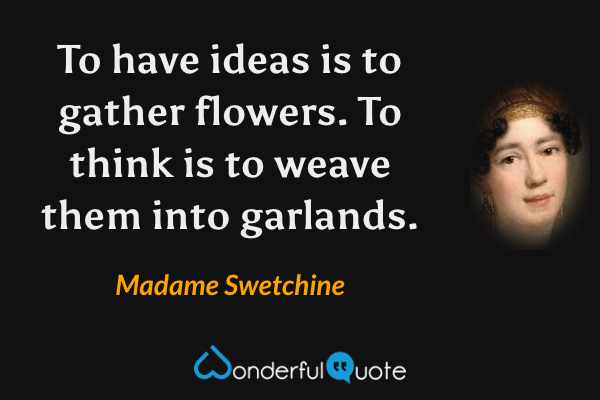 To have ideas is to gather flowers.  To think is to weave them into garlands.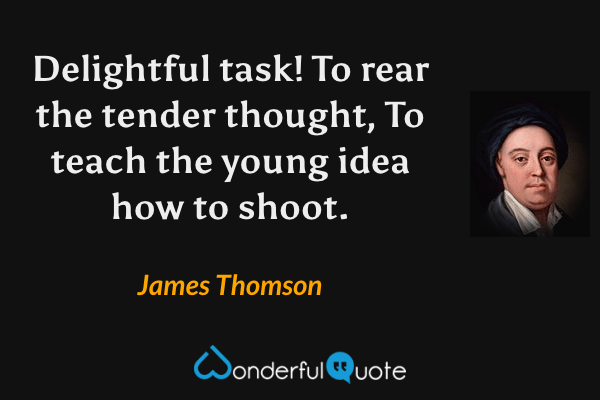 Delightful task! To rear the tender thought,
To teach the young idea how to shoot.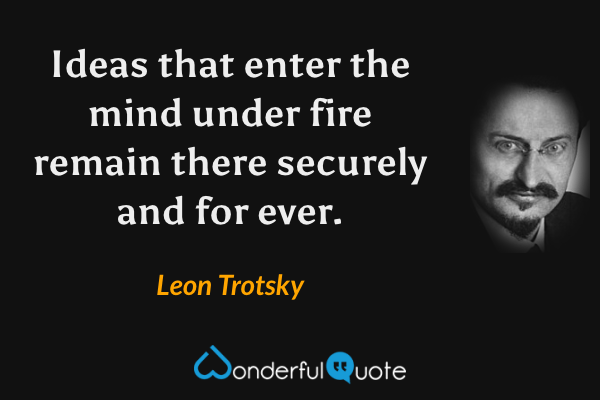 Ideas that enter the mind under fire remain there securely and for ever.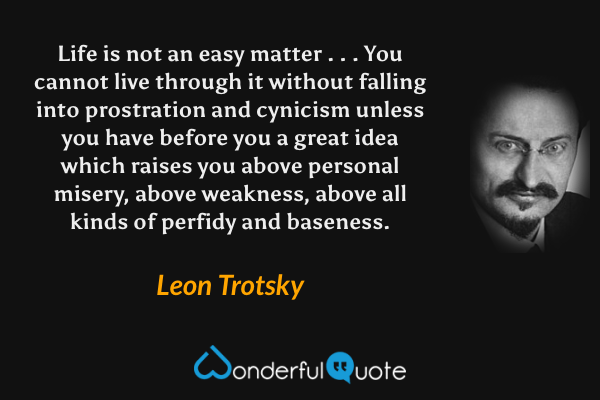 Life is not an easy matter . . . You cannot live through it without falling into prostration and cynicism unless you have before you a great idea which raises you above personal misery, above weakness, above all kinds of perfidy and baseness.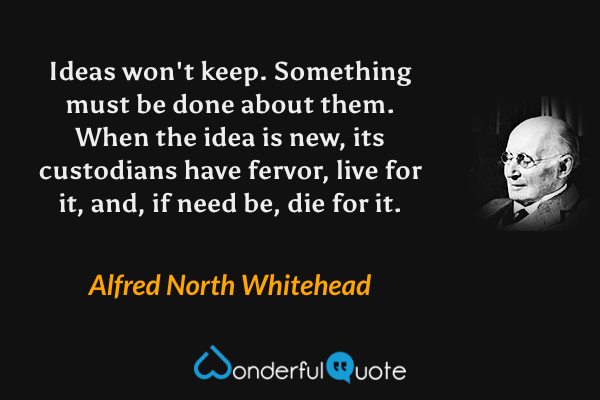 Ideas won't keep.  Something must be done about them. When the idea is new, its custodians have fervor, live for it, and, if need be, die for it.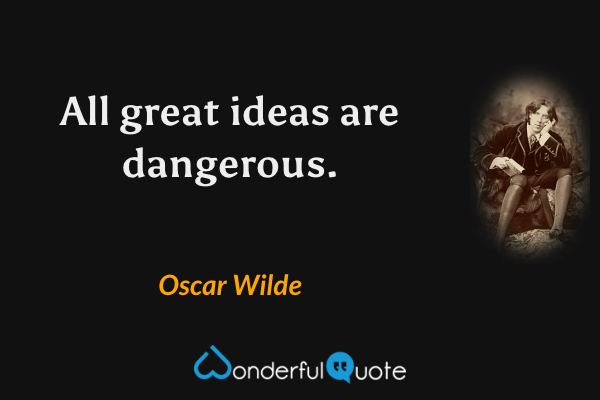 All great ideas are dangerous.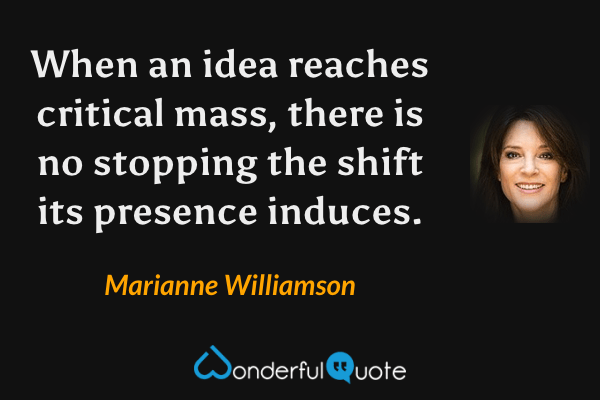 When an idea reaches critical mass, there is no stopping the shift its presence induces.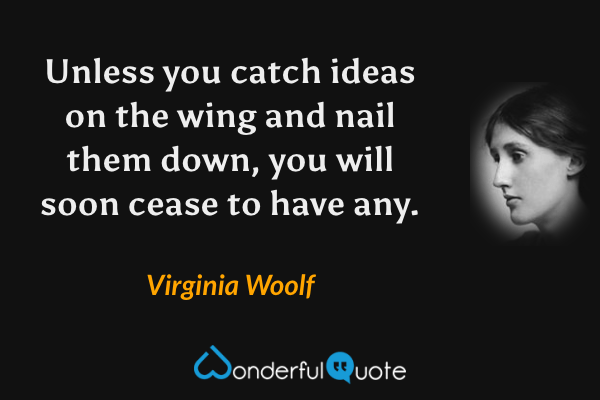 Unless you catch ideas on the wing and nail them down, you will soon cease to have any.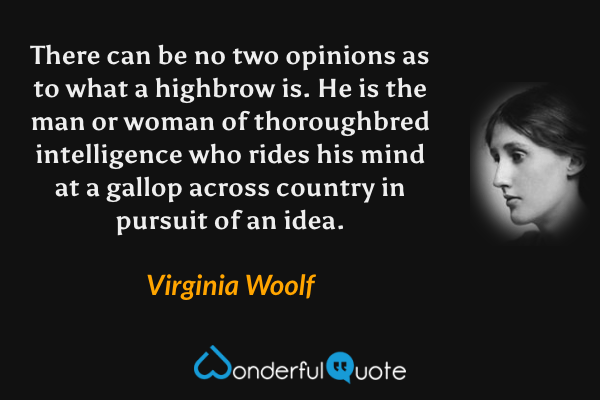 There can be no two opinions as to what a highbrow is. He is the man or woman of thoroughbred intelligence who rides his mind at a gallop across country in pursuit of an idea.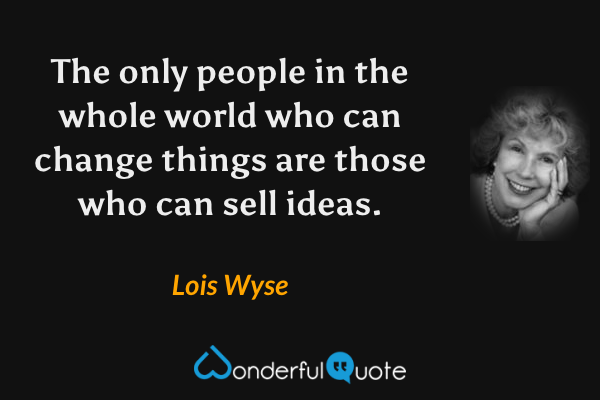 The only people in the whole world who can change things are those who can sell ideas.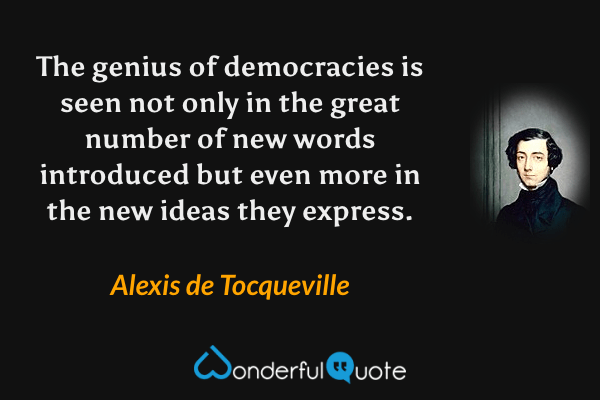 The genius of democracies is seen not only in the great number of new words introduced but even more in the new ideas they express.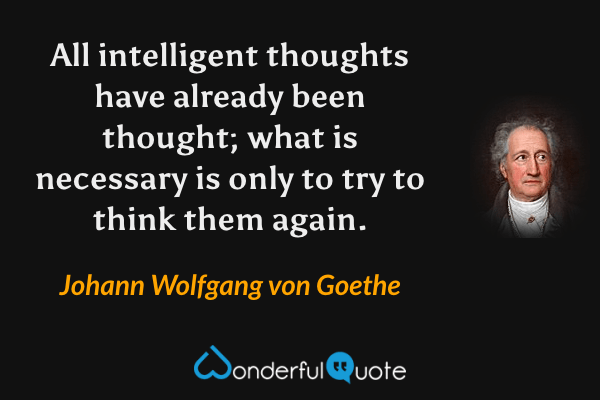 All intelligent thoughts have already been thought; what is necessary is only to try to think them again.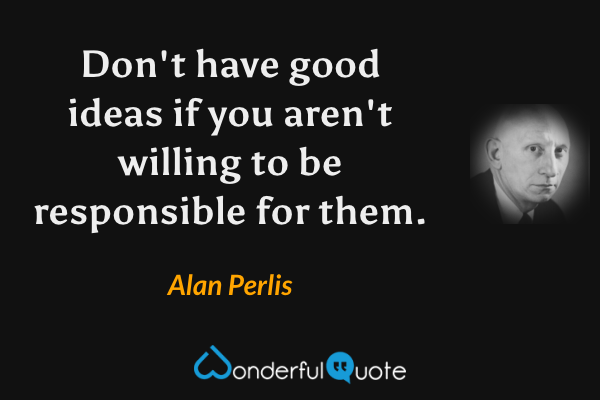 Don't have good ideas if you aren't willing to be responsible for them.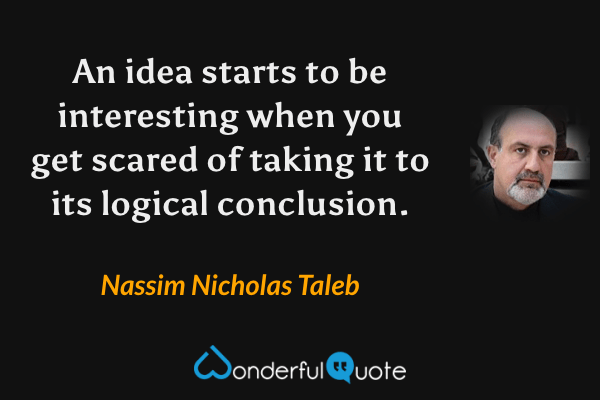 An idea starts to be interesting when you get scared of taking it to its logical conclusion.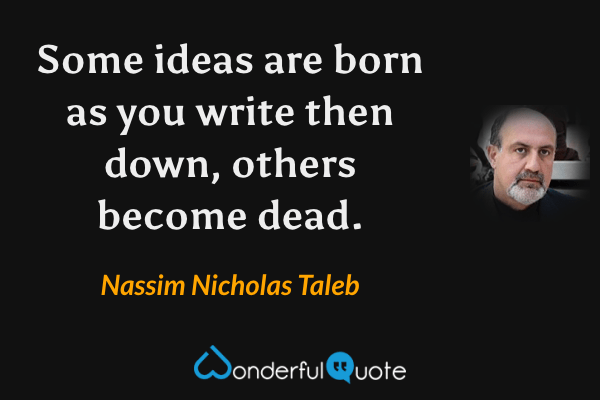 Some ideas are born as you write then down, others become dead.
It is incomparably more difficult to gain acceptance of a new idea than it is to discover it.