Cigars Quotes
Most popular cigars quotes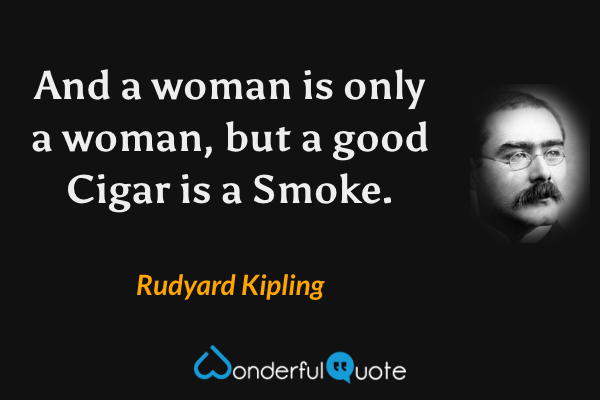 And a woman is only a woman, but a good Cigar is a Smoke.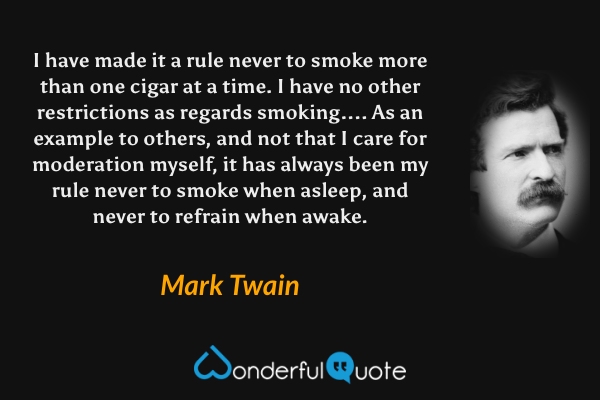 I have made it a rule never to smoke more than one cigar at a time. I have no other restrictions as regards smoking.... As an example to others, and not that I care for moderation myself, it has always been my rule never to smoke when asleep, and never to refrain when awake.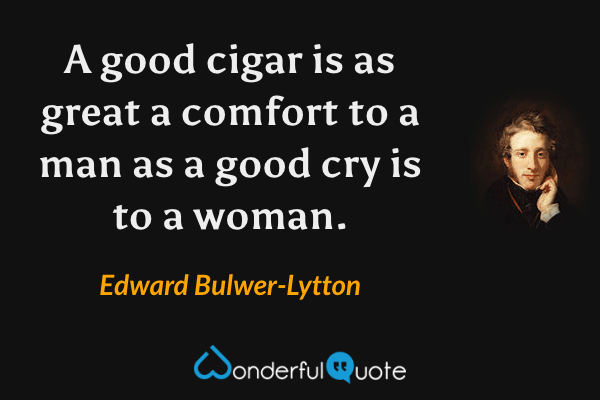 A good cigar is as great a comfort to a man as a good cry is to a woman.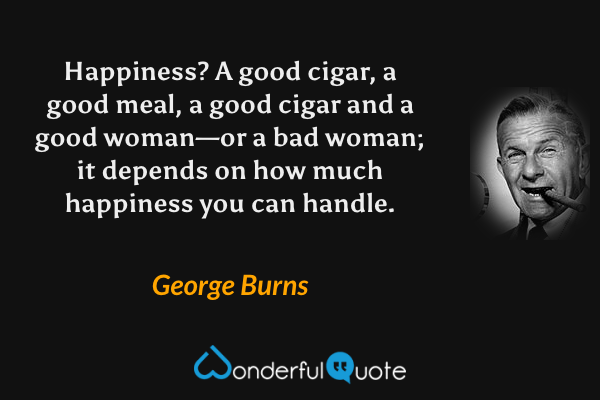 Happiness? A good cigar, a good meal, a good cigar and a good woman—or a bad woman; it depends on how much happiness you can handle.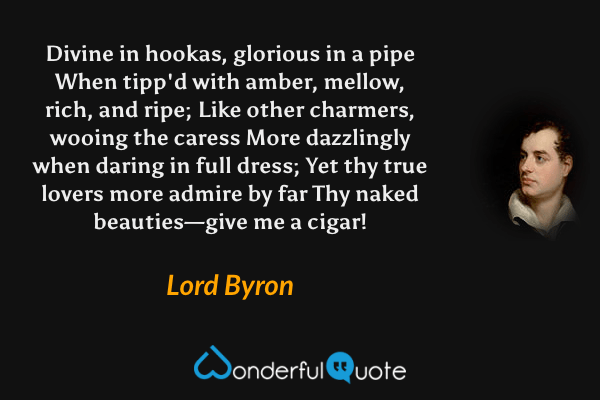 Divine in hookas, glorious in a pipe
When tipp'd with amber, mellow, rich, and ripe;
Like other charmers, wooing the caress
More dazzlingly when daring in full dress;
Yet thy true lovers more admire by far
Thy naked beauties—give me a cigar!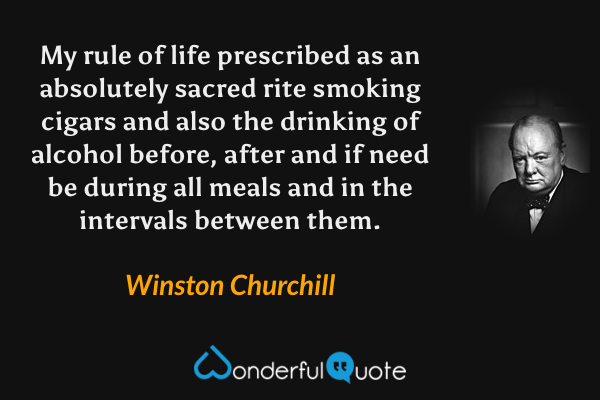 My rule of life prescribed as an absolutely sacred rite smoking cigars and also the drinking of alcohol before, after and if need be during all meals and in the intervals between them.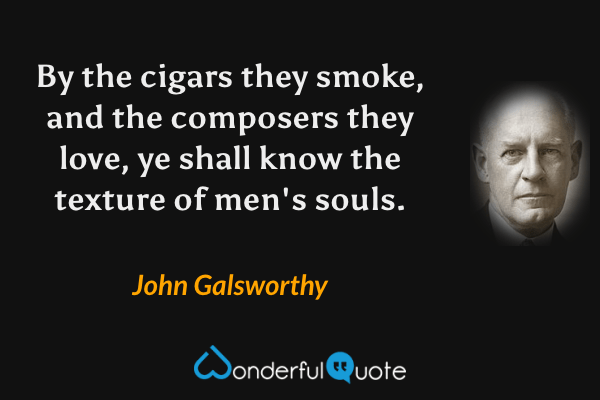 By the cigars they smoke, and the composers they love, ye shall know the texture of men's souls.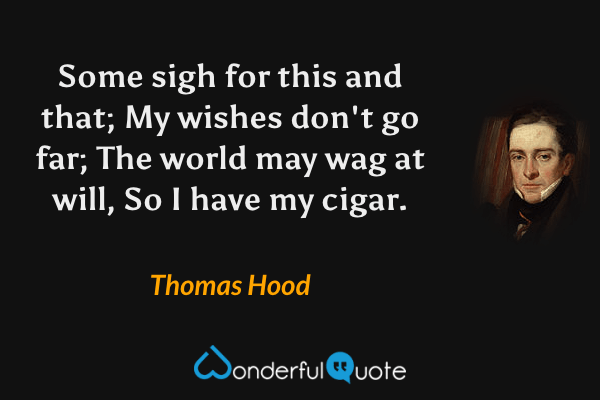 Some sigh for this and that;
My wishes don't go far;
The world may wag at will,
So I have my cigar.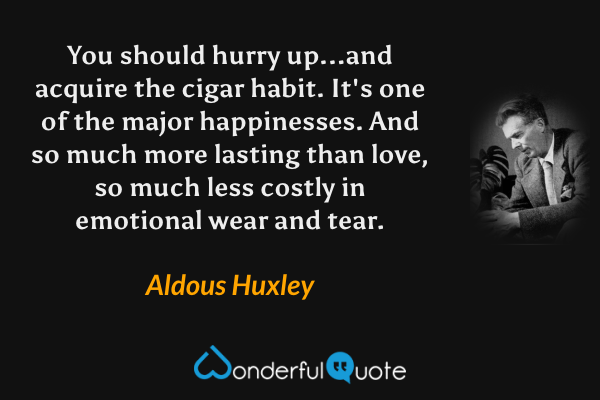 You should hurry up...and acquire the cigar habit. It's one of the major happinesses. And so much more lasting than love, so much less costly in emotional wear and tear.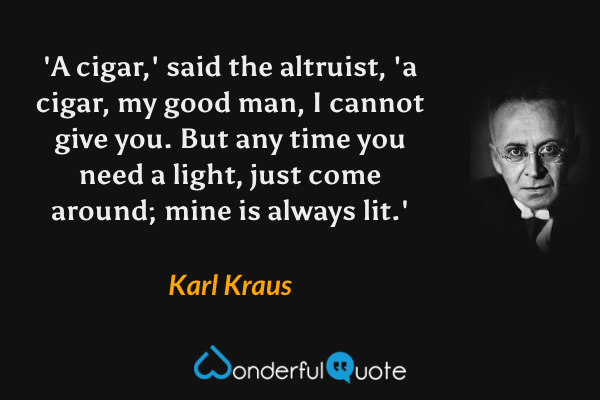 'A cigar,' said the altruist, 'a cigar, my good man, I cannot give you. But any time you need a light, just come around; mine is always lit.'
Young man, you may or may not have murdered a middle-aged woman, but you've certainly saved the life of an elderly barrister.
No cigar-smoker ever committed suicide.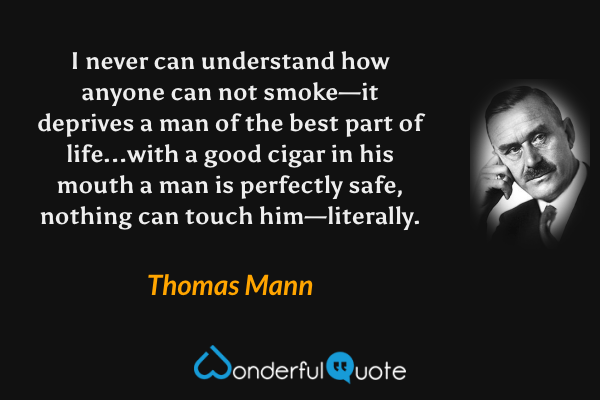 I never can understand how anyone can not smoke—it deprives a man of the best part of life...with a good cigar in his mouth a man is perfectly safe, nothing can touch him—literally.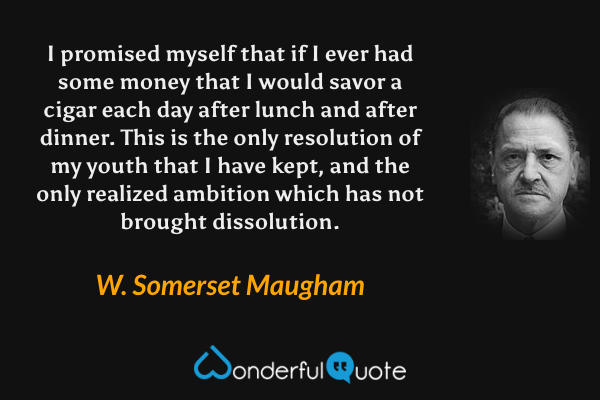 I promised myself that if I ever had some money that I would savor a cigar each day after lunch and after dinner. This is the only resolution of my youth that I have kept, and the only realized ambition which has not brought dissolution.
Life's a cigar': the wasting body glows;
The head turns white as Kosciusko's snows;
And, with the last soul-fragrance still in air,
The ashes slowly sink in soft repose.
You better take advantage of the good cigars. You don't get much else in that job.
I can't stand cigarette smoke.... Cigarette smoking is both expensive and unhealthy. There should be a law against women smoking.... Now take the cigar. Cigars are an expression of the fundamental idea of smoking. A stimulant and a relaxation. A manly vice.
Yes, social friend, I love thee well, 
In learned doctors' spite; 
Thy clouds all other clouds dispel, 
And lap me in delight.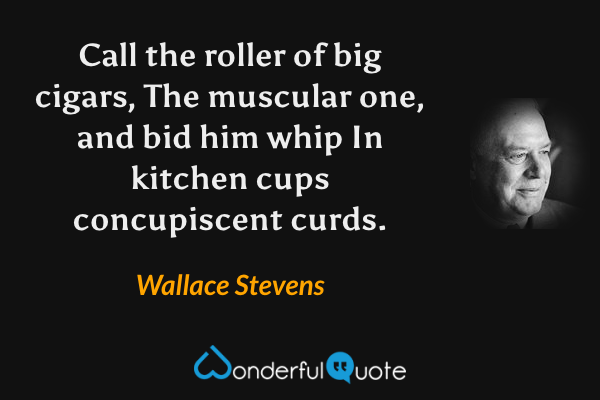 Call the roller of big cigars, The muscular one, and bid him whip In kitchen cups concupiscent curds.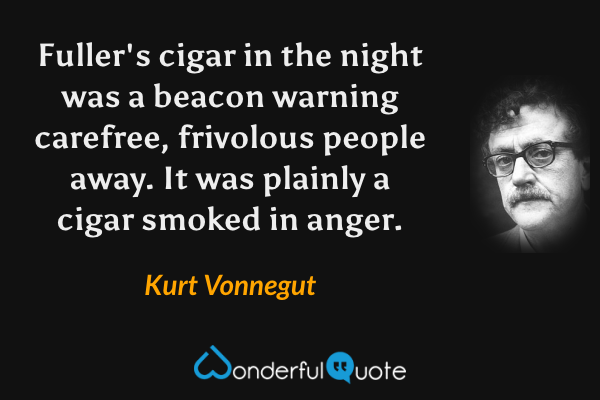 Fuller's cigar in the night was a beacon warning carefree, frivolous people away. It was plainly a cigar smoked in anger.
It [love] is like a cigar. If it goes out you can light it again, but it never tastes quite the same.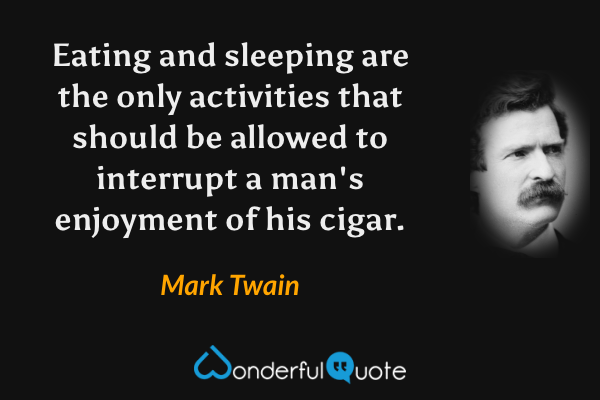 Eating and sleeping are the only activities that should be allowed to interrupt a man's enjoyment of his cigar.
Smoking has a sedative effect upon the nerves, and enables a man to bear the sorrows of his life (of which everyone has his share) not only decently, but dignifiedly.
A good smoker, like a good lover, always takes his time with a cigar.
The best cigar in the world is the one you prefer to smoke on special occasions, enabling you to relax and enjoy that which gives you maximum pleasure.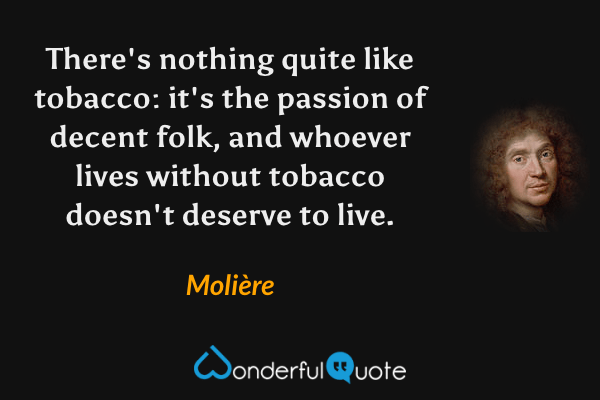 There's nothing quite like tobacco: it's the passion of decent folk, and whoever lives without tobacco doesn't deserve to live.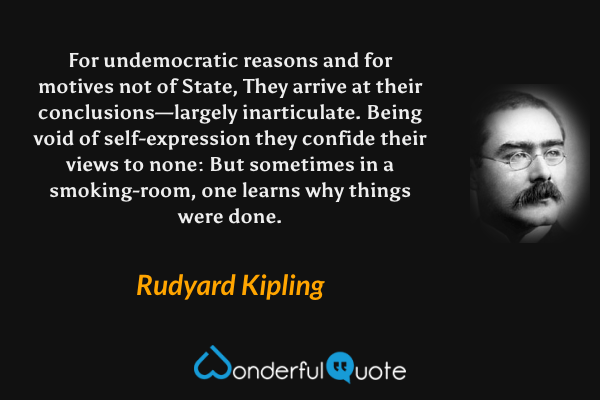 For undemocratic reasons and for motives not of State,
They arrive at their conclusions—largely inarticulate.
Being void of self-expression they confide their views to none:
But sometimes in a smoking-room, one learns why things were done.
A woman is just a script, but a cigar is a motion picture.
After a truly good meal, an outstanding cigar is still the most satisfying after-dinner activity that doesn't involve two human beings.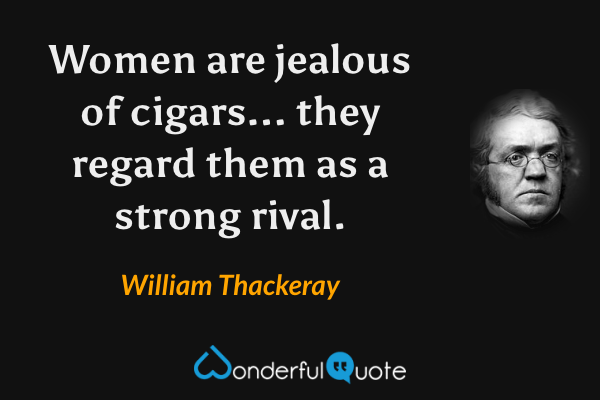 Women are jealous of cigars... they regard them as a strong rival.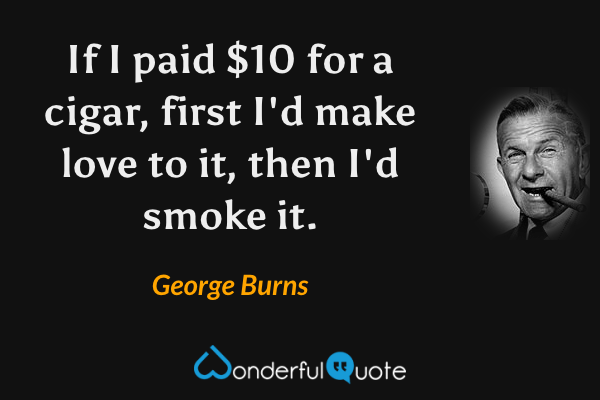 If I paid $10 for a cigar, first I'd make love to it, then I'd smoke it.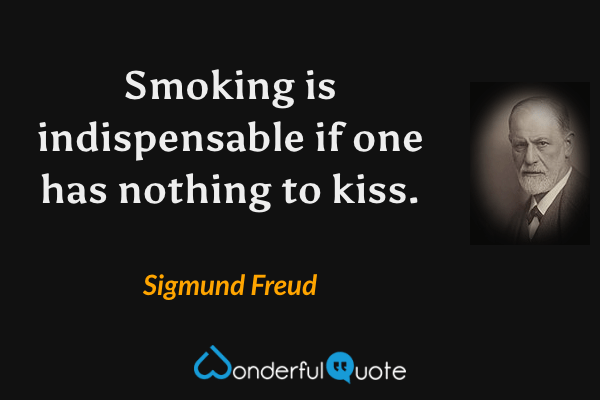 Smoking is indispensable if one has nothing to kiss.
Do not ask me to describe the charms of reverie, or the contemplative ecstasy into which the smoke of our cigar plunges us.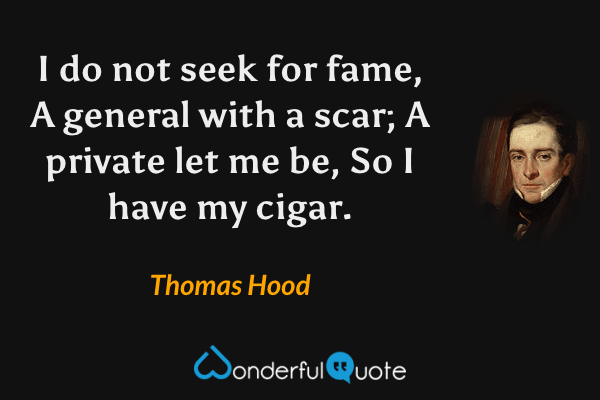 I do not seek for fame,
A general with a scar;
A private let me be, 
So I have my cigar.
To smoke is human; to smoke cigars is divine.
Cognac and cigars... it's like finding the perfect woman. When you've got her, why go chasing after another?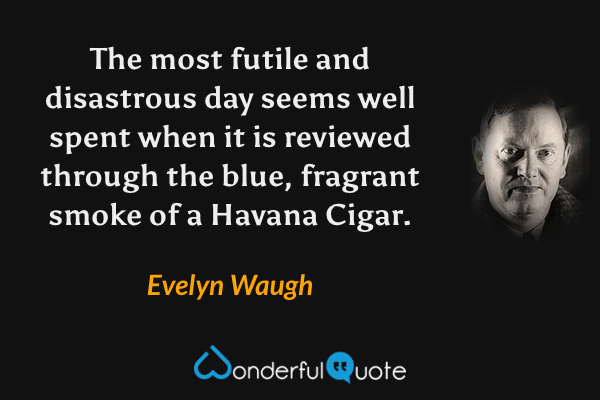 The most futile and disastrous day seems well spent when it is reviewed through the blue, fragrant smoke of a Havana Cigar.
There are two things a man never forgets - his first love and his first cigar.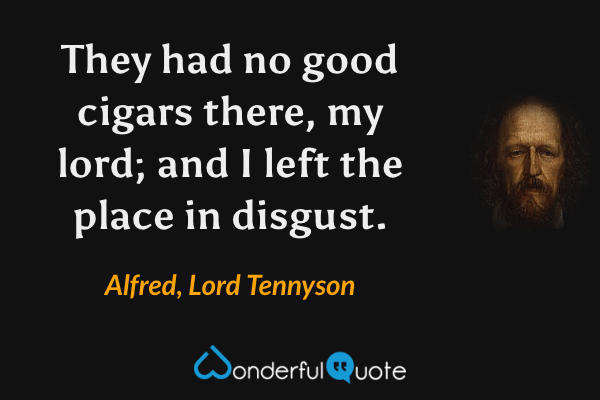 They had no good cigars there, my lord; and I left the place in disgust.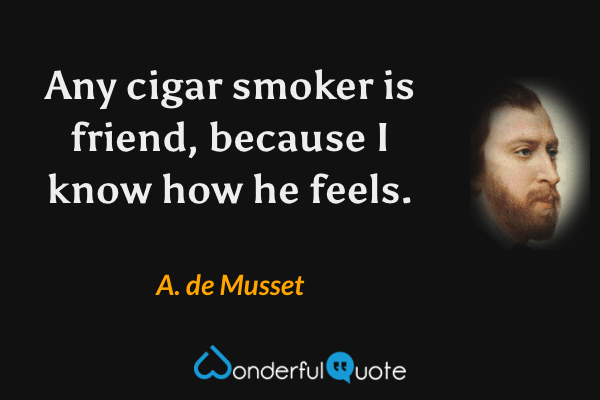 Any cigar smoker is friend, because I know how he feels.
Cigarettes are for chain-smoking, cigars must be smoked one at a time, peaceably, with all the leisure in the world. Cigarettes are of the instant, cigars are for eternity.
A handmade cigar is a rebellion against frenzy and insanity; it means supporting contemplation over rash impulse, and represents a civilized revolution.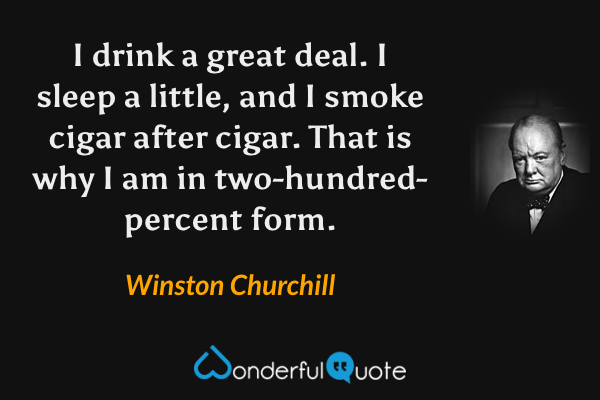 I drink a great deal. I sleep a little, and I smoke cigar after cigar. That is why I am in two-hundred-percent form.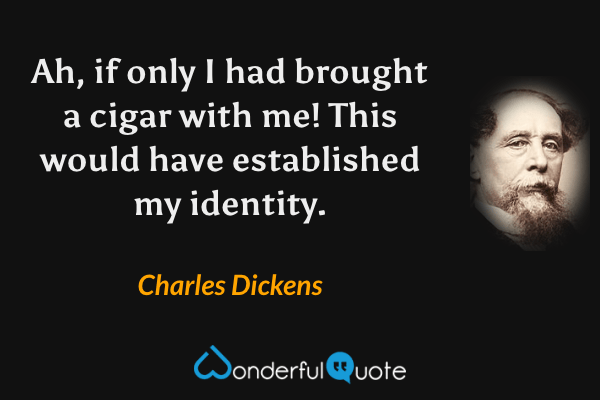 Ah, if only I had brought a cigar with me! This would have established my identity.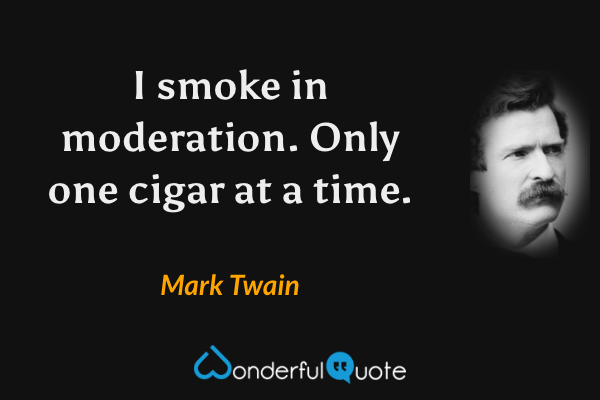 I smoke in moderation. Only one cigar at a time.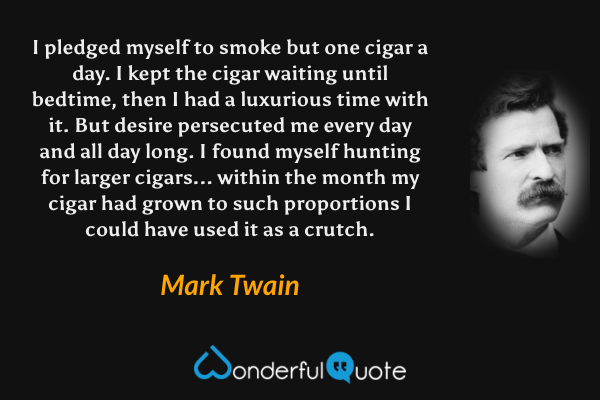 I pledged myself to smoke but one cigar a day. I kept the cigar waiting until bedtime, then I had a luxurious time with it. But desire persecuted me every day and all day long. I found myself hunting for larger cigars... within the month my cigar had grown to such proportions I could have used it as a crutch.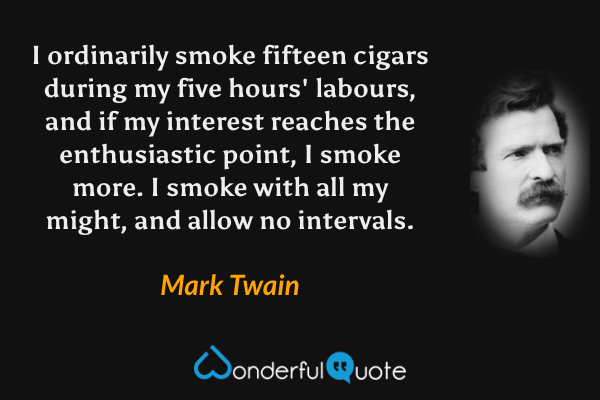 I ordinarily smoke fifteen cigars during my five hours' labours, and if my interest reaches the enthusiastic point, I smoke more. I smoke with all my might, and allow no intervals.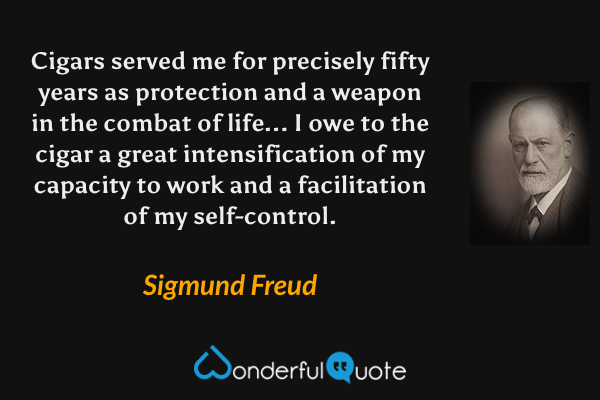 Cigars served me for precisely fifty years as protection and a weapon in the combat of life... I owe to the cigar a great intensification of my capacity to work and a facilitation of my self-control.
That's why I write in so many cigar-smoking heroes and villains who chomp their cigars.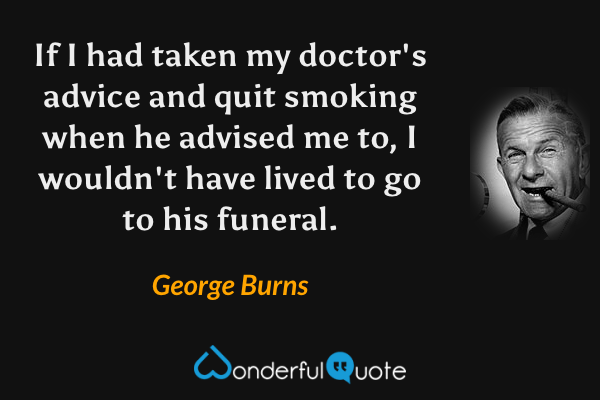 If I had taken my doctor's advice and quit smoking when he advised me to, I wouldn't have lived to go to his funeral.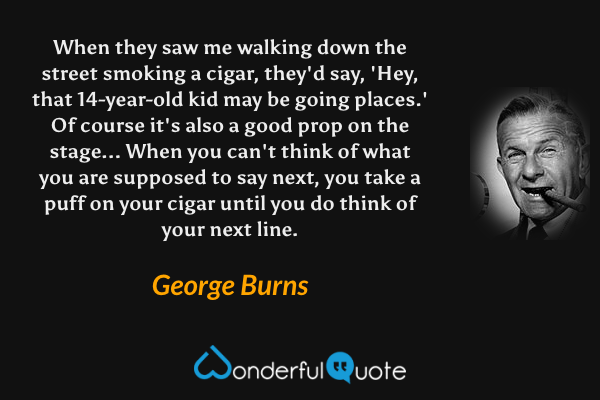 When they saw me walking down the street smoking a cigar, they'd say, 'Hey, that 14-year-old kid may be going places.' Of course it's also a good prop on the stage... When you can't think of what you are supposed to say next, you take a puff on your cigar until you do think of your next line.
I started smoking these little Italian cigars just so there was some of that smell in the air.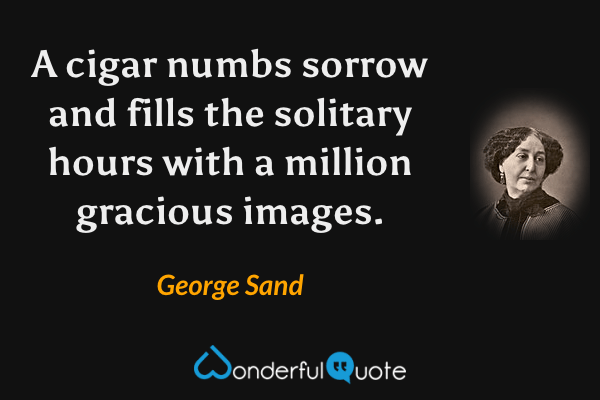 A cigar numbs sorrow and fills the solitary hours with a million gracious images.
A cigar ought not to be smoked solely with the mouth, but with the hand, the eyes, and with the spirit.
A fine cigar is just like a woman. If you don't light it up just right and suck on it with a certain frequency, it will go out on you.
There's something about smoking a cigar that feels like a celebration. It's like a fine wine. There's a quality, a workmanship, a passion that goes into the smoking of a fine cigar.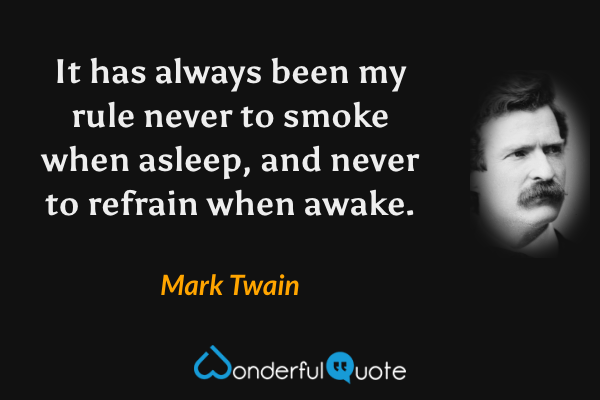 It has always been my rule never to smoke when asleep, and never to refrain when awake.
A good cigar is like a beautiful chick with a great body who also knows the American League box scores.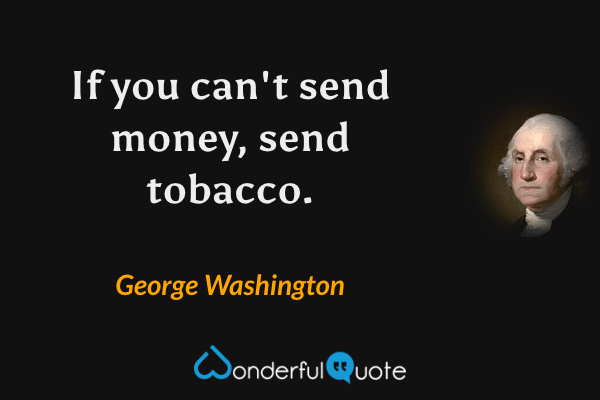 If you can't send money, send tobacco.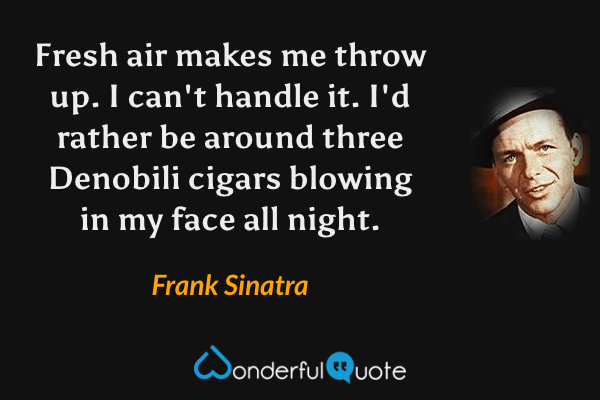 Fresh air makes me throw up. I can't handle it. I'd rather be around three Denobili cigars blowing in my face all night.
If your wife doesn't like the aroma of your cigar, change your wife.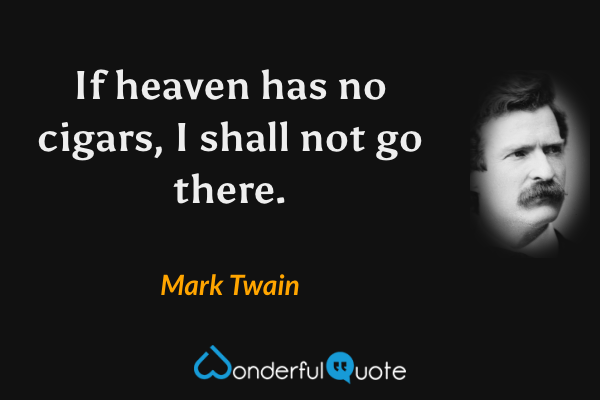 If heaven has no cigars, I shall not go there.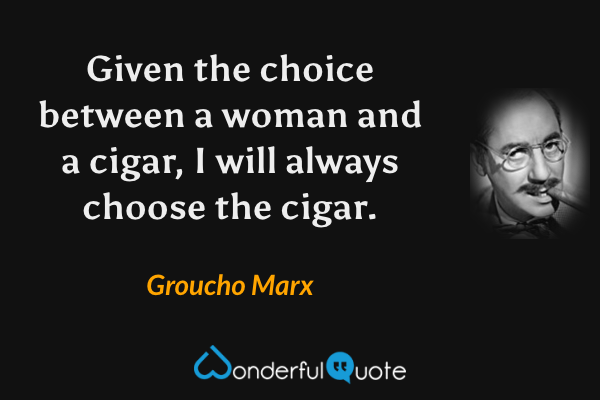 Given the choice between a woman and a cigar, I will always choose the cigar.
A good cigar is as great a comfort to a man as a good cry to a woman.