Miracles Quotes
Most popular miracles quotes
It [Christianity] is precisely the story of a great Miracle. A naturalistic Christianity leaves out all that is specifically Christian.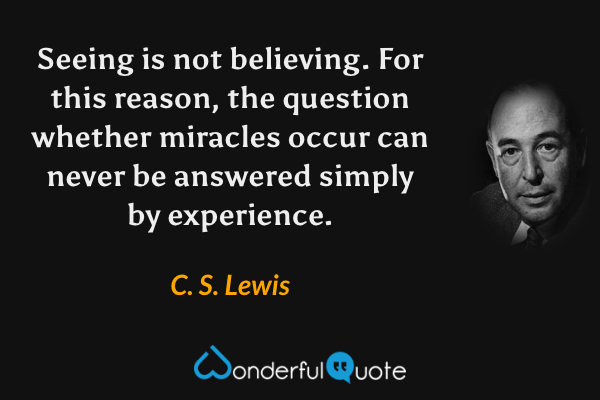 Seeing is not believing. For this reason, the question whether miracles occur can never be answered simply by experience.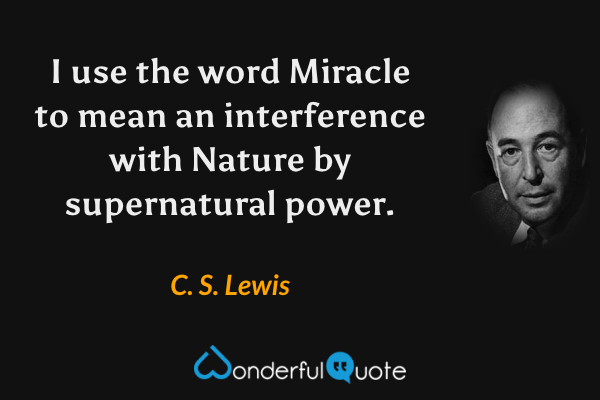 I use the word Miracle to mean an interference with Nature by supernatural power.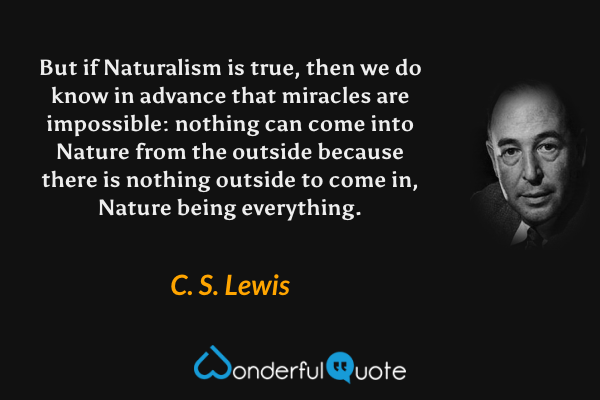 But if Naturalism is true, then we do know in advance that miracles are impossible: nothing can come into Nature from the outside because there is nothing outside to come in, Nature being everything.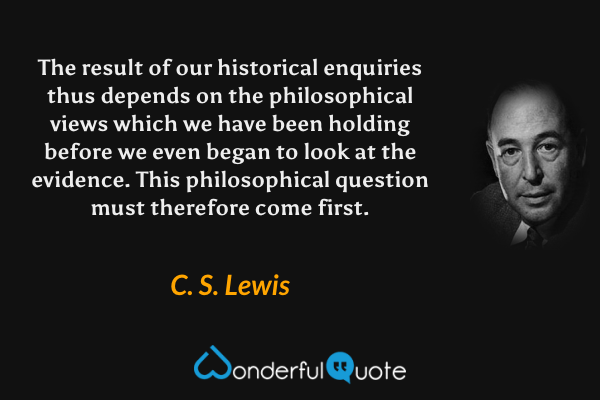 The result of our historical enquiries thus depends on the philosophical views which we have been holding before we even began to look at the evidence. This philosophical question must therefore come first.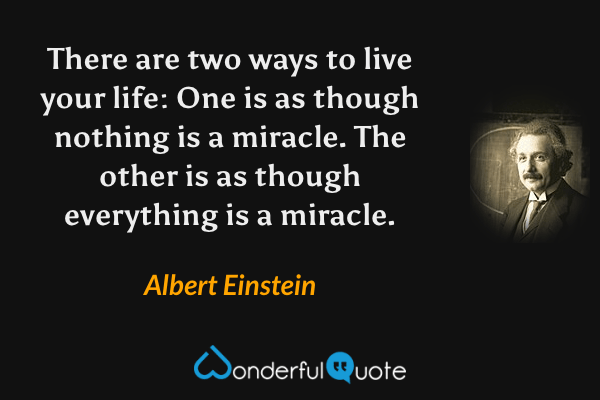 There are two ways to live your life: One is as though nothing is a miracle. The other is as though everything is a miracle.
Where there is great love, there are always miracles.
We couldn't conceive of a miracle if none had ever happened.
Miracles sometimes occur, but one has to work terribly hard for them.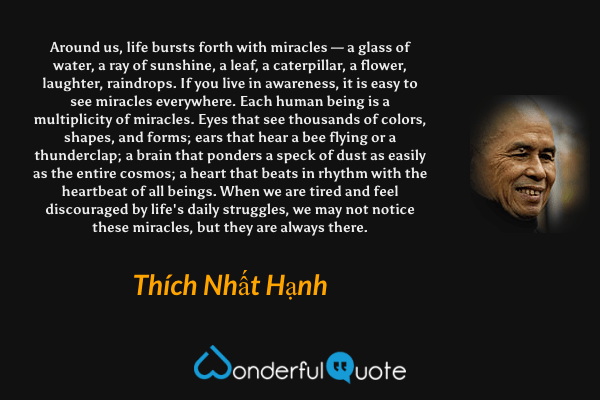 Around us, life bursts forth with miracles — a glass of water, a ray of sunshine, a leaf, a caterpillar, a flower, laughter, raindrops. If you live in awareness, it is easy to see miracles everywhere. Each human being is a multiplicity of miracles. Eyes that see thousands of colors, shapes, and forms; ears that hear a bee flying or a thunderclap; a brain that ponders a speck of dust as easily as the entire cosmos; a heart that beats in rhythm with the heartbeat of all beings. When we are tired and feel discouraged by life's daily struggles, we may not notice these miracles, but they are always there.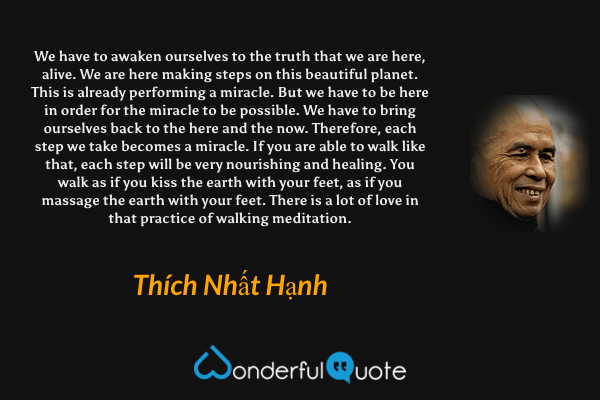 We have to awaken ourselves to the truth that we are here, alive. We are here making steps on this beautiful planet. This is already performing a miracle. But we have to be here in order for the miracle to be possible. We have to bring ourselves back to the here and the now. Therefore, each step we take becomes a miracle. If you are able to walk like that, each step will be very nourishing and healing. You walk as if you kiss the earth with your feet, as if you massage the earth with your feet. There is a lot of love in that practice of walking meditation.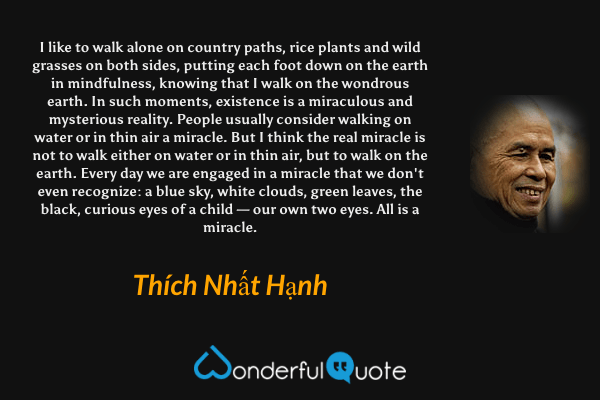 I like to walk alone on country paths, rice plants and wild grasses on both sides, putting each foot down on the earth in mindfulness, knowing that I walk on the wondrous earth. In such moments, existence is a miraculous and mysterious reality. People usually consider walking on water or in thin air a miracle. But I think the real miracle is not to walk either on water or in thin air, but to walk on the earth. Every day we are engaged in a miracle that we don't even recognize: a blue sky, white clouds, green leaves, the black, curious eyes of a child — our own two eyes. All is a miracle.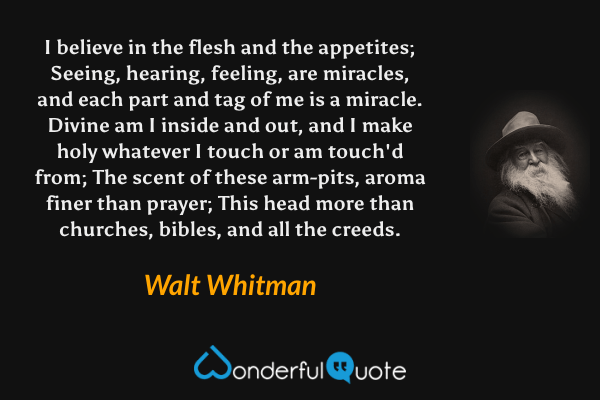 I believe in the flesh and the appetites; 
Seeing, hearing, feeling, are miracles, and each part and tag of me is a miracle. 
Divine am I inside and out, and I make holy whatever I touch or am touch'd from;
The scent of these arm-pits, aroma finer than prayer; 
This head more than churches, bibles, and all the creeds.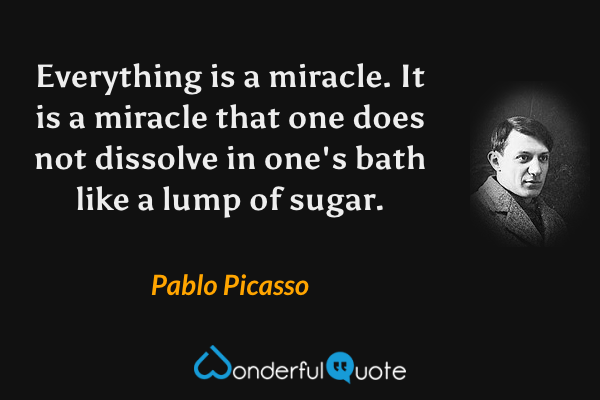 Everything is a miracle. It is a miracle that one does not dissolve in one's bath like a lump of sugar.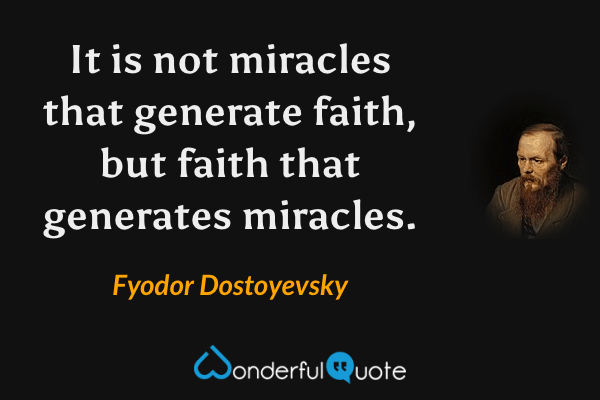 It is not miracles that generate faith, but faith that generates miracles.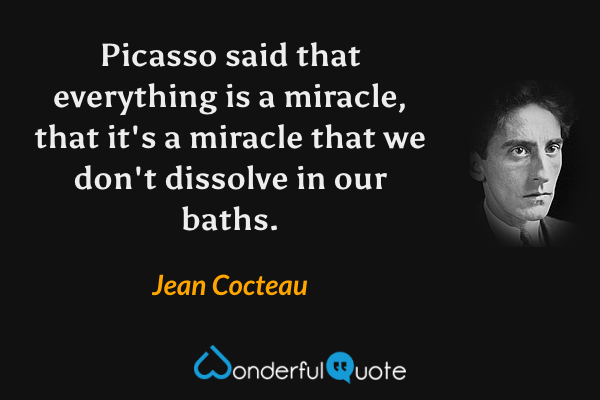 Picasso said that everything is a miracle, that it's a miracle that we don't dissolve in our baths.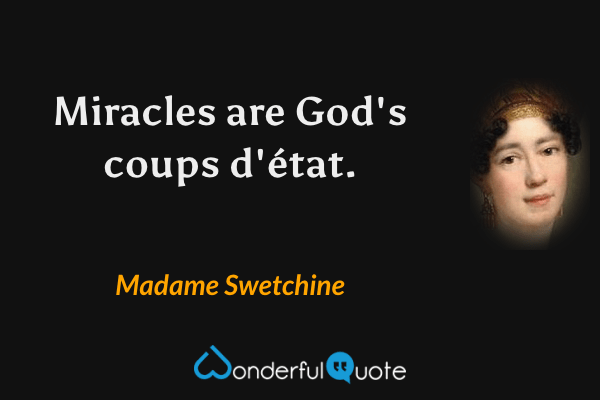 Miracles are God's coups d'état.
He talked about Father Junipero Serra's qualifications for sainthood: they say he cured a nun's lupus. A miracle. Now I'm not a doctor, but I know lupus goes into remission. It's not always fatal. Have Ray Charles and Stevie Wonder play ping-pong together. That's a miracle.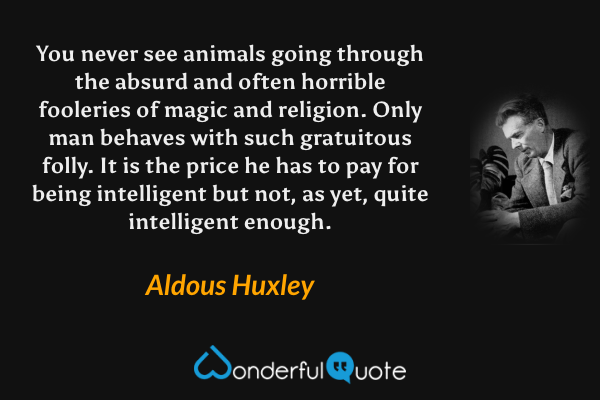 You never see animals going through the absurd and often horrible fooleries of magic and religion. Only man behaves with such gratuitous folly. It is the price he has to pay for being intelligent but not, as yet, quite intelligent enough.