Woody Allen Quotes
Most popular Woody Allen Quotes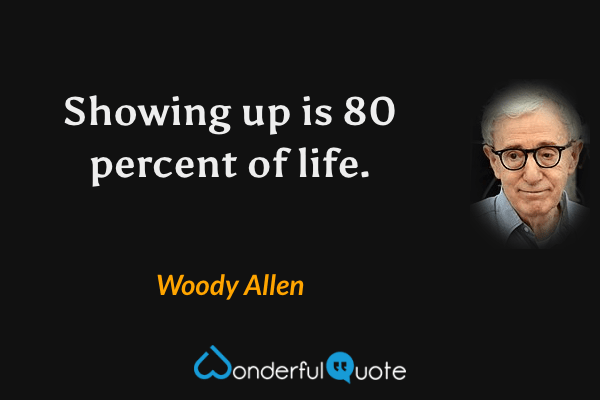 Showing up is 80 percent of life.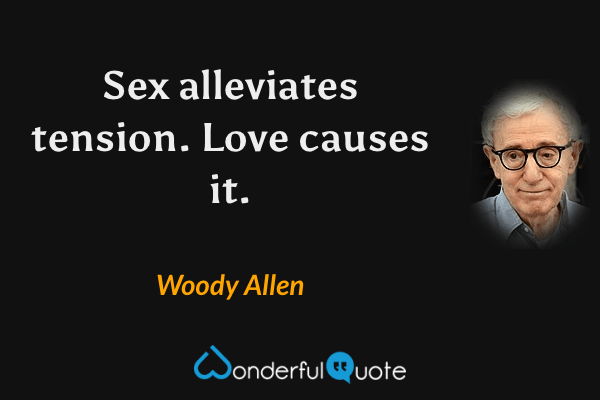 Sex alleviates tension. Love causes it.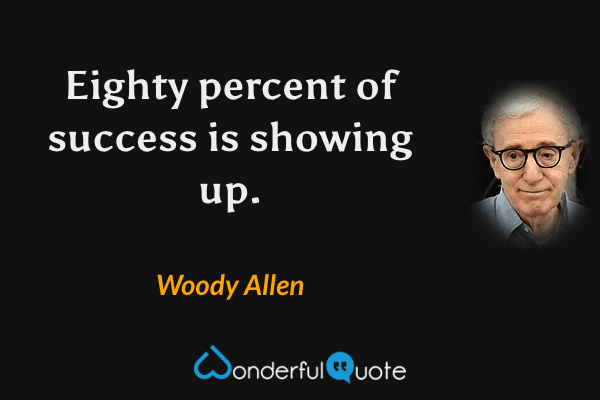 Eighty percent of success is showing up.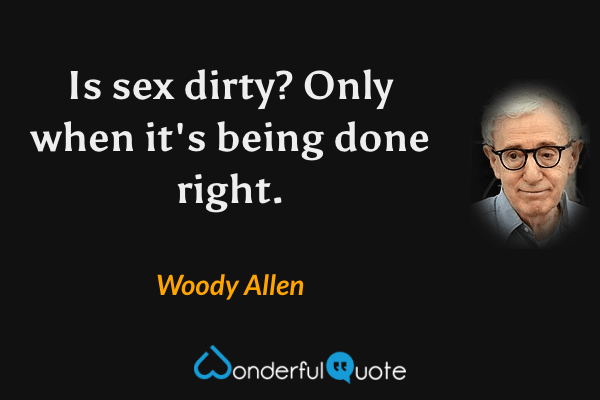 Is sex dirty? Only when it's being done right.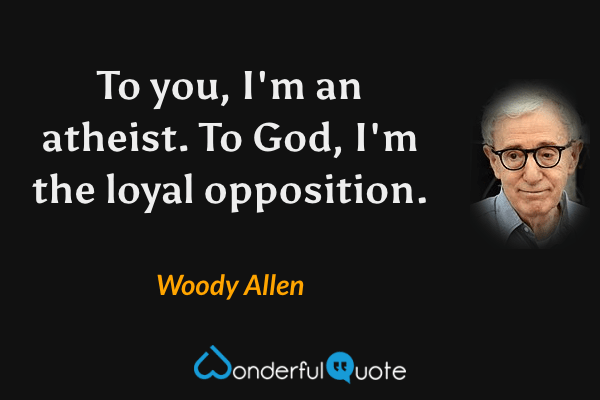 To you, I'm an atheist.  To God, I'm the loyal opposition.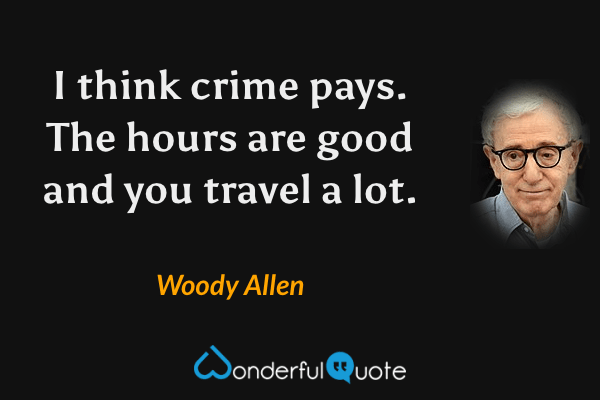 I think crime pays. The hours are good and you travel a lot.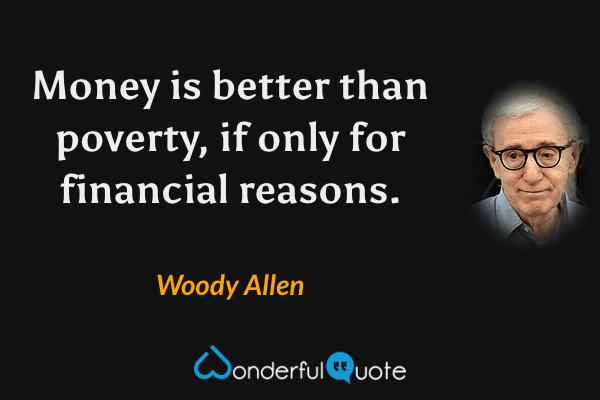 Money is better than poverty, if only for financial reasons.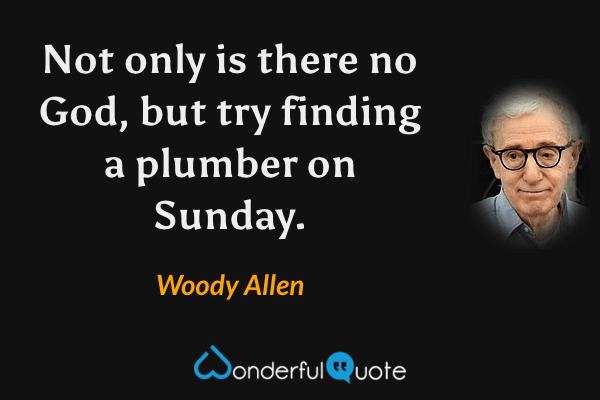 Not only is there no God, but try finding a plumber on Sunday.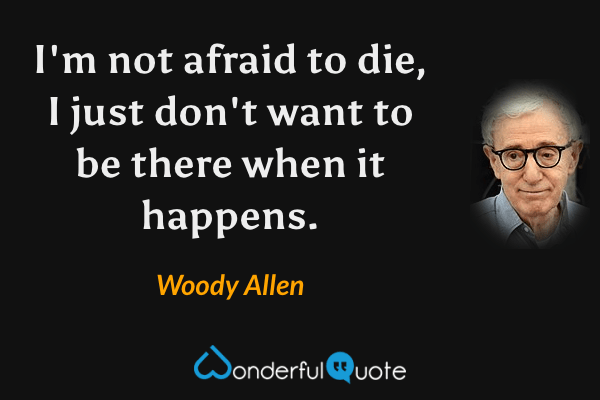 I'm not afraid to die, I just don't want to be there when it happens.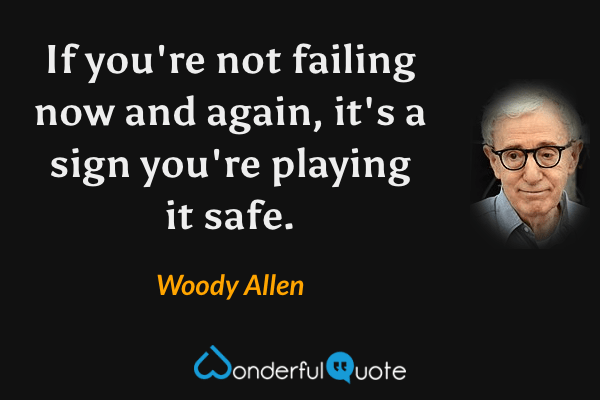 If you're not failing now and again, it's a sign you're playing it safe.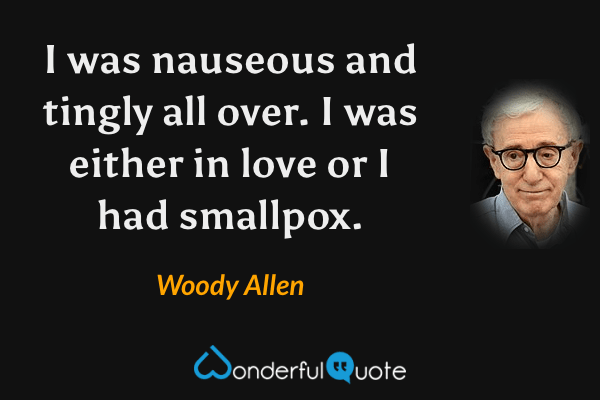 I was nauseous and tingly all over. I was either in love or I had smallpox.
If you're born with a gift, to behave like it's an achievement is not right.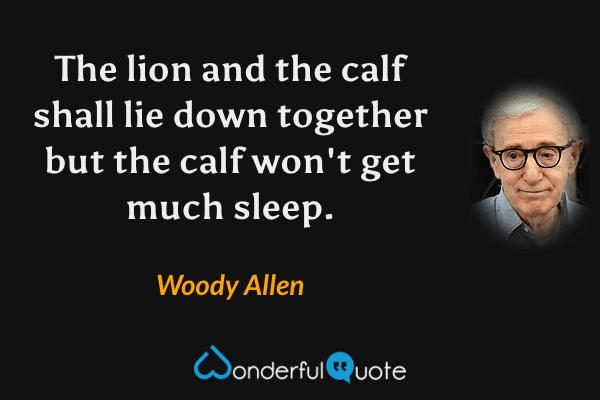 The lion and the calf shall lie down together but the calf won't get much sleep.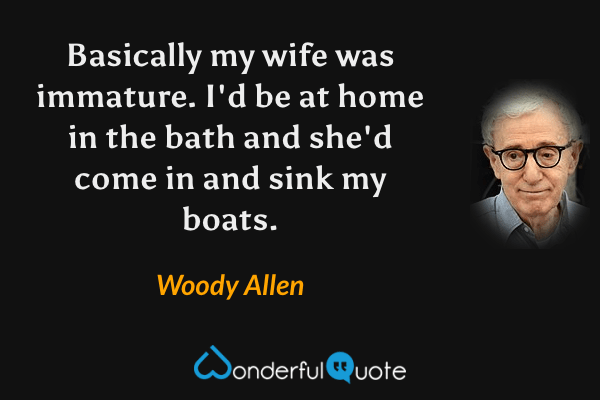 Basically my wife was immature. I'd be at home in the bath and she'd come in and sink my boats.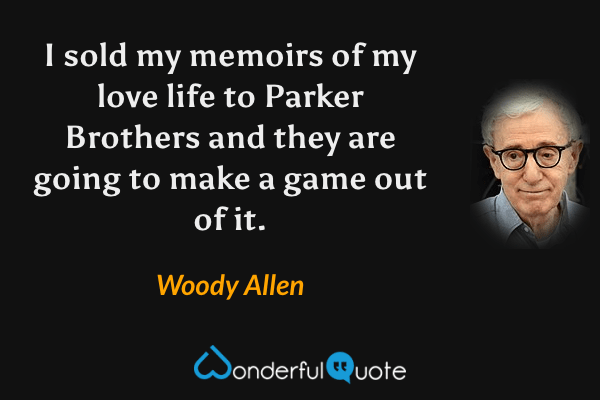 I sold my memoirs of my love life to Parker Brothers and they are going to make a game out of it.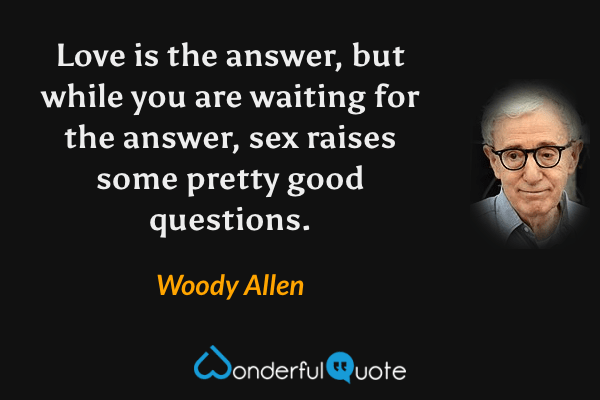 Love is the answer, but while you are waiting for the answer, sex raises some pretty good questions.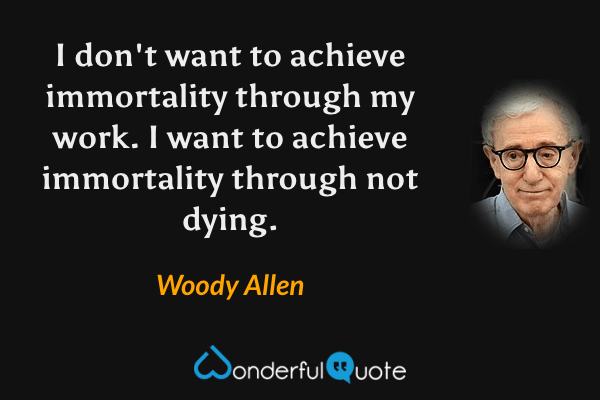 I don't want to achieve immortality through my work. I want to achieve immortality through not dying.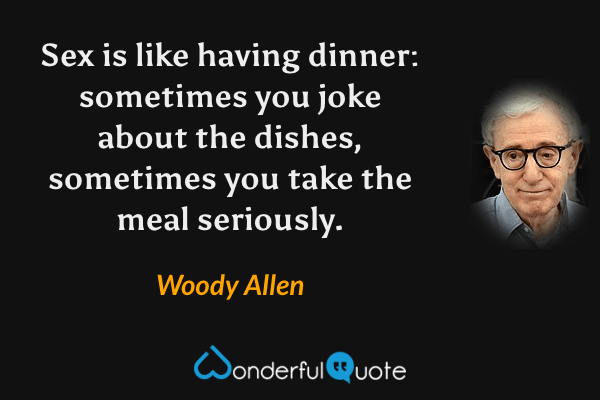 Sex is like having dinner: sometimes you joke about the dishes, sometimes you take the meal seriously.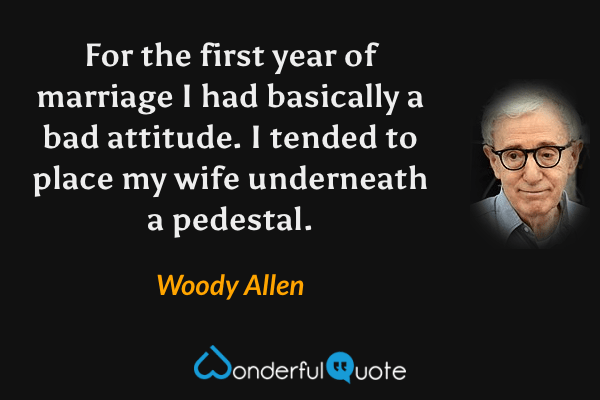 For the first year of marriage I had basically a bad attitude. I tended to place my wife underneath a pedestal.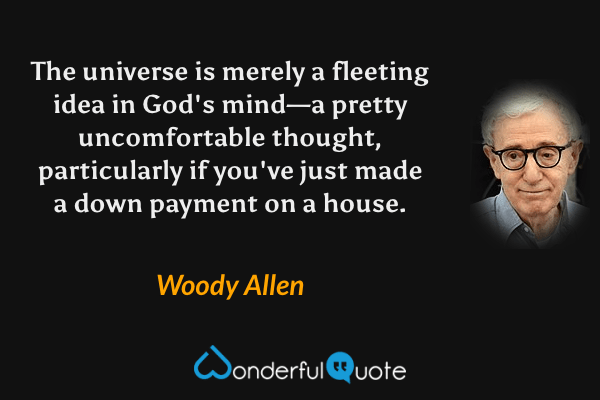 The universe is merely a fleeting idea in God's mind—a pretty uncomfortable thought, particularly if you've just made a down payment on a house.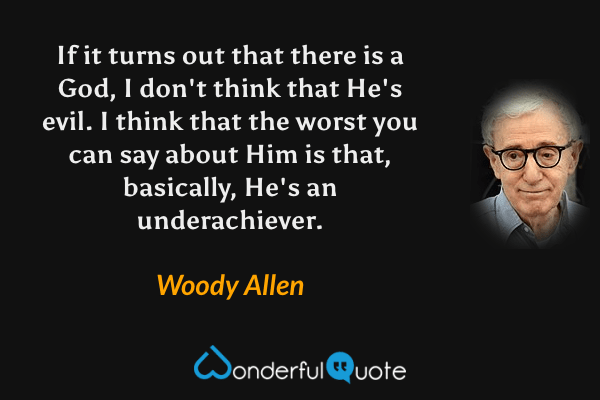 If it turns out that there is a God, I don't think that He's evil.  I think that the worst you can say about Him is that, basically, He's an underachiever.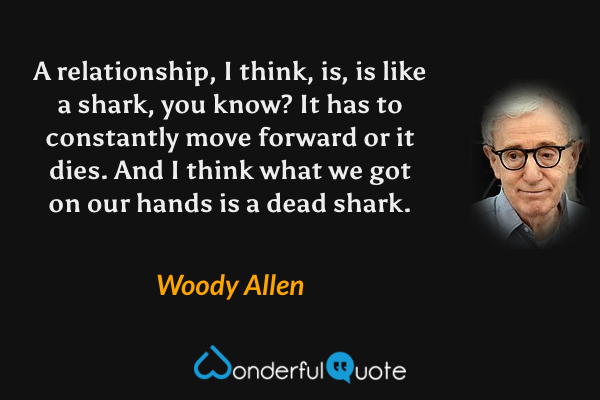 A relationship, I think, is, is like a shark, you know?  It has to constantly move forward or it dies.  And I think what we got on our hands is a dead shark.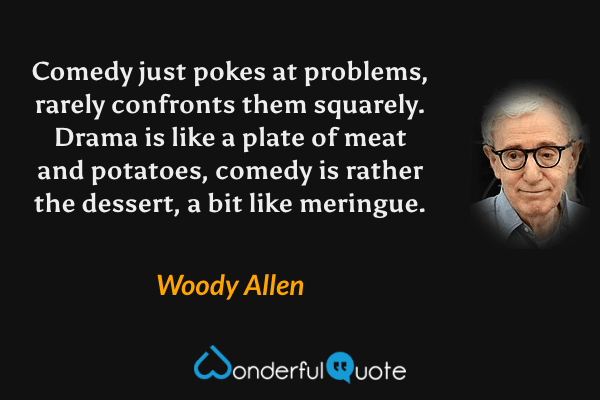 Comedy just pokes at problems, rarely confronts them squarely.  Drama is like a plate of meat and potatoes, comedy is rather the dessert, a bit like meringue.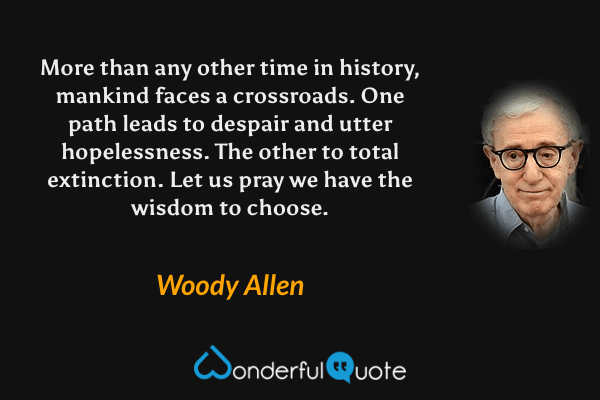 More than any other time in history, mankind faces a crossroads. One path leads to despair and utter hopelessness. The other to total extinction. Let us pray we have the wisdom to choose.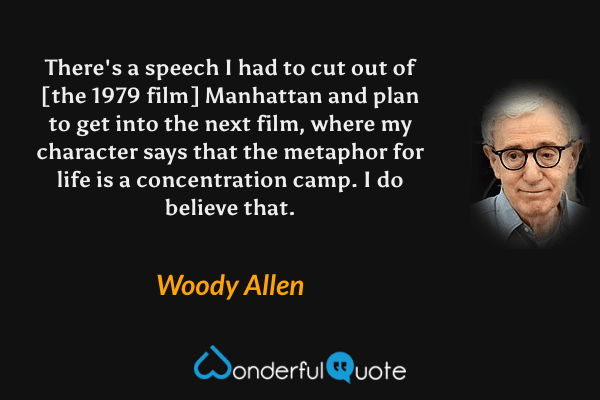 There's a speech I had to cut out of [the 1979 film] Manhattan and plan to get into the next film, where my character says that the metaphor for life is a concentration camp. I do believe that.
I don't want to achieve immortality through my work; I want to achieve immortality through not dying.